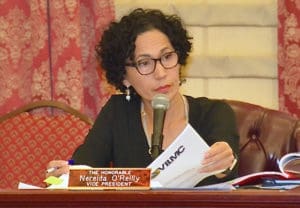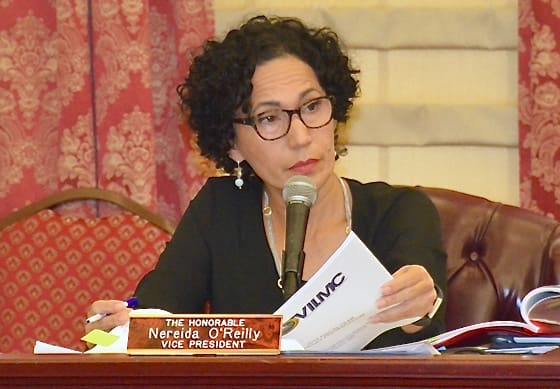 Doctors and medical facilities will pay a reduced V.I. Gross Receipts Tax rate of 2.5 percent for services paid through the federal Medicare and Medicaid programs if a bill approved in Senate last week becomes law.
Sen. Nereida Rivera-O'Reilly, the sponsor of the measure, said this tax cut would encourage medical providers to take more patients and be less likely to stop taking Medicaid or Medicare patients.
When the proposal was vetted in committee in November 2017, Dr. Jeffrey Chase, president of the Association of Hospital Employed Physicians, told senators physicians who care for Medicare and Medicaid patients only receive reimbursement for about half the cost of treating those patients and their services are further discounted by gross receipts taxes.
Also, more patients are on those programs; about half of patients, versus 20 percent several years ago, he said.
All reports and studies agree that Medicaid reimbursement levels are lower than that for private insurance. But studies and news reports are mixed on whether doctors are actually losing money. Several studies suggest there has been no decline in the 70 percent of physicians who take Medicaid patients. But some, especially business-focused outlets including Forbes Magazine and Bloomberg News, have published articles saying doctors are wary of taking on more Medicaid patients in particular and a number of GOP representatives in Congress have made similar arguments.
Several studies and reports say the median income for a general practitioner in the USA is about $196,000 per year. Testimony of medical professionals at V.I. legislative hearings suggests it may be lower in the USVI.
When the measure was vetted in committee, it envisioned a complete exemption. At the time, Bureau of Internal Revenue Director Marvin Pickering estimated it would cut revenues by about $7 million per year. Testifiers later amended the figure to a much lower $1.8 million. O'Reilly proposed an amendment changing it to a 2.5 percent rate or half the usual 5 percent rate. Based on the lower estimate, that would suggest a loss of roughly $900,000 to the government's coffers.
Cuts to government revenues are currently difficult to absorb. The territory has a massive, unresolved annual budget shortfall, with a structural deficit in excess of $110 million every year. It has not been able to borrow in the private market. Federal disaster loans in the wake of last year's hurricanes have contributed about $65 million to the general fund, lessening but not eliminating the shortfall between the V.I. government's revenues and its mandatory expenses.
The territory is facing having its sewage treatment plants shut due to nonpayment; owes its own utility tens of millions of dollars; has not paid trash haulers, impacting trash collection and is more than $40 million behind in mandatory employer and employee contributions to its collapsing government pension system.
The bill also changes rules governing medical licensure and telemedicine, with the goal of expanding the use of telemedicine and making it easier to bring physicians into the territory.
Voting for the amended bill were: O'Reilly, Sens. Marvin Blyden (D-STT), Dwayne DeGraff (D-STT), Jean Forde (D-STT), Novelle Francis (D-STX), Myron Jackson (D-STT)., Neville James (D-STX), Positive Nelson (ICM-STX), Sammuel Sanes (D-STX), Janelle Sarauw (I-STT), Brian Smith (I-At Large) and Kurt Vialet (D-STX). voting no was Sen. Tregenza Roach (I-STT). Sens. Alicia Hansen (I-STX) and Janette Millin Young (D-STT) abstained.