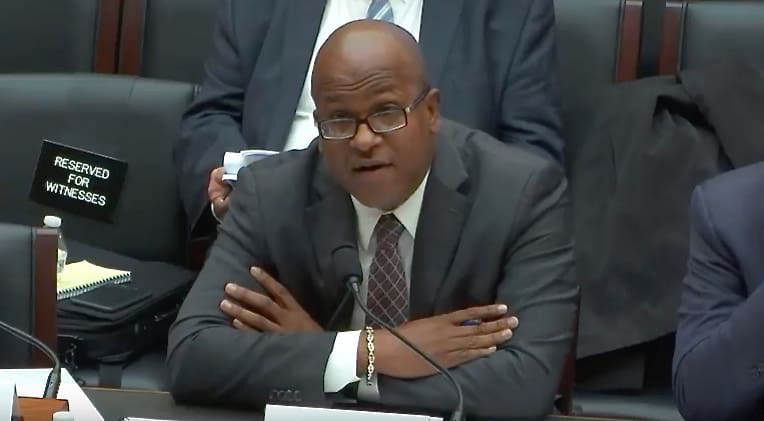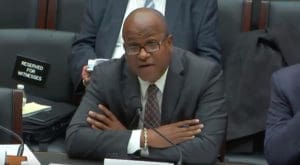 The V.I. Legislature approved Gov. Kenneth Mapp's nomination of Water and Power Authority Executive Director Julio Rhymer for the post of budget director this week, despite his recent departure from WAPA with an unexplained $90,000 cash payout and the WAPA board refusing to say why he left.
Rhymer was among seven nominees approved by the Senate in session April 4. Rhymer's nomination and the renomination of Elizabeth Armstrong to the WAPA board were both approved with only two senators voting no, but both generated some discussion. The other nominees were mostly approved unanimously.
Rhymer was head of WAPA a little more than a year, replacing former Executive Director Hugo Hodge Jr., who served in the post for eight years. Rhymer left WAPA abruptly and Mapp nominated him to serve as the head of the Office of Management and Budget.
This is Armstrong's second term on the board. She has been general manager of the Buccaneer Hotel since 1989. Her family has owned and run the hotel since it opened its doors in 1947. She is a past president of the St. Croix Hotel and Tourism Association.
Rhymer served as WAPA's chief financial officer from 2012 until he took up the post of interim executive director in 2016 and was later confirmed to the position. Before coming to WAPA he was CFO of the V.I. Housing Finance Authority from 2009-2012. He holds a master's in business administration from DeVry University in Atlanta.
WAPA is cash strapped and getting millions in loans from the federal government this year to help cover revenue losses due to September's hurricanes, but paid the massive severance anyway. WAPA is wholly owned by the V.I. government, which has a massive budget shortfall for the current year only partly filled by a federal disaster loan this year. The territory is unable to borrow in the private marketplace.
In January, WAPA Board Chair Elizabeth Armstrong told senators Rhymer was not fired. However she also refused to give any details of Rhymer's departure, saying the public employee's agreement with the publicly-owned utility about funds belonging to the public was confidential.
"The board of WAPA had a confidential separation agreement," Armstrong said. She did not say why the agreement was confidential and senators did not ask.
"Was Mr. Rhymer let go for cause?" Sen. Positive Nelson asked in January.
"The board decided to move in a different direction. And so it was an agreed-to separation. It was not a termination for cause. Both parties agreed to separate," Armstrong said in January.
She said in January she had to be careful in speaking because of the confidentiality agreement.
Before approving Rhymer's nomination on April 4, senators agreed Rhymer was likely qualified to perform the duties of budget director, but some still questioned the secrecy surrounding Rhymer's sudden departure and the cost of the payout.
Sen. Tregenza Roach (I-STT) said Rhymer left WAPA abruptly after a relatively short time. He said WAPA did not benefit from the removal of Rhymer's predecessor Hugo Hodge Jr. and said he believed Hodge was removed "at the request of the governor."
Sen. Janette Millin Young (D-STT) said Armstrong "was instrumental with payouts that I don't consider good management practices."
"I cannot support Ms. Armstrong and Mr. Rhymer. Rhymer is a good person and has been good to me but he has not shown good management," Young said.
Sen. Brian Smith (D-At Large) and other senators also expressed some concern over Rhymer's short tenure at WAPA but said he was highly qualified for the position.
Rhymer received votes to approve from 13, with Smith and Young voting no; 13 voted for Armstrong's reappointment to the WAPA board with Roach and Young voting no.
Senators also approved Nelson Petty as commissioner of Public Works. Petty has been serving in an acting capacity since Gustav James resigned in August 2017. Petty is a civil engineer and surveyor who attended Florida Agricultural and Mechanical University. He was a design engineer at the office of highway engineering in Public Works until Mapp named him deputy commissioner of Public Works in July of 2017.
Also approved were architect Stacy Bourne of The Bourne Group, to the V.I. Casino Control Commission; Hubert Turnbull for another term on the WAPA board; John Quelch to the University of the Virgin Islands Board of Trustees and Dina Perry-Malone to the V.I. Housing Authority Board of Commissioners.
Turnbull is a retired former WAPA employee. Quelch is a professor and vice provost at the University of Miami and dean of the Miami School of Business. A Florida resident, he owns a second home on St. Thomas. Perry-Malone is vice president and USVI market manager at FirstBank Virgin Islands, managing 10 branches.