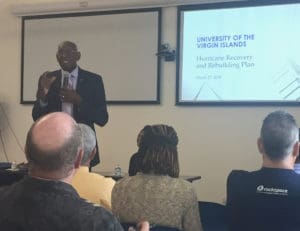 Restoration of damage to the University of the Virgin Islands' St. Thomas campus will cost about $80 million, administrators, faculty and students learned at a town hall meeting Tuesday.
The UVI administration organized the meeting to review plans for restoring the damage done to the St Thomas campus by Hurricanes Irma and Maria.
Multiple UVI facilities sustained serious damage after the hurricanes, including the Reichold Center, the V.I. Environmental Resource Center on St. John, several classrooms, the Center for Marine and Environmental Science, and an entire residence hall. Tuesday's discussion focused on the St. THomas campus. UVI's St. Croix campus is scheduled to have a separate assessment.
Stacey Bourne of The Bourne Group, the contracted architecture/engineering firm assisting the university, shared plans for refurbishment, reconstruction and mold remediation with a total restoration cost projected at $80.3 million.
The plan categorized damaged buildings in phases based on the extent of damages and resources needed for restoration, with consideration for when they were originally built, what materials they are made of, and what purpose they serve. Buildings considered in phase 1 of the restoration process include VIERS, West Residence Hall, Faculty Housing West, Rouppe House (Student Affairs,) the Caribbean Green Technology Center, the School of Business and the Nursing Classrooms Building.
A Q&A session allowed attendees to ask questions and air grievances, and input from the public is being encouraged.