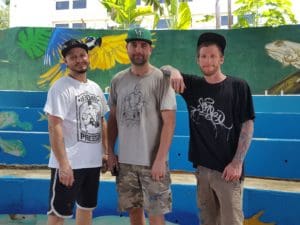 Anthill Collective generously offered to paint a graffiti mural in the music room at the Virgin Islands Montessori School and Peter Gruber International Academy (VIMSIA). Scottie Raymond, Brian Clark and Jared Mattes, artists from Anthill Collective, are on St. Thomas for a few days and have chosen to paint three murals, possibly four if time permits. They are working closely with the Youth Development Academy and will be painting at Mandela Circle. VIMSIA was fortunate enough to be picked as one of these places.
The Anthill Collective is based in Vermont, and its artists have been working together for the last five years, travelling all over the world spreading color and art. Named after the fact that ants are notoriously much stronger when they work together, the collective is on a mission to "make things beautiful, spread color to places that would have otherwise been neglected and make it something that people can enjoy," said Raymond. He added that they want "to take art outside of the white cube."
All three well-renowned artists originally got their start creating graffiti under bridges and on trains, but as they met and worked with various artists around the world, their skills progressed, and they ended up forming their own company.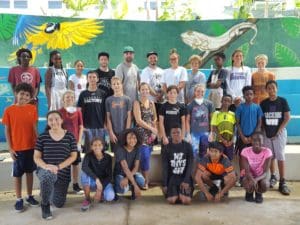 With the help of VIMSIA parent Dan Lewin, the Anthill Collective artists made the connection with Jana Ferguson, VIMSIA art coordinator. It was her responsibility to facilitate the project and set up a workshop with the students where they gave input for the mural design — such as featuring VIMSIA's beloved (and recently passed) blue and gold macaw "Sweetie Pie." Grades 7-12 students worked with the artists all day Thursday, helping with layout sketches, rolling paint, and blending and practicing different spray techniques.
"We love these opportunities because every now and again you get that one kid in a class full of kids that says "this is my thing," and we can offer them that without them having to have that scary run away from the police," said Raymond.
Ferguson was thrilled that Peter Gruber International Academy students were able to participate and take part in the masterpiece. "I want students to experience gratitude for having Anthill Collective travel here to add art to our island. The team wanted to beautify St. Thomas after our Irmaria experiences in order to contribute to our community. The three of them came to donate their time and skills, and we just got lucky because of our parent connection," said Ferguson.
Adding that she hopes students will "look at art from different avenues — not everyone loves what is considered traditional art — so I hope this opens their eyes to all the different opportunities out there."
VIMSIA express its sincere gratitude to the Anthill Collective for not only selecting it as one of their projects but for inspiring students and parents.