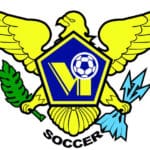 The USVI Soccer Association has announced the recommencement of its Saturday morning youth development training sessions (Grassroots Program) on Saturday, March 24, at Smith Bay Ball Park, St. Thomas.
Grassroots soccer is back on from 9-11 a.m., Saturday March 24 and every Saturday at Smith Bay Ball Park. USVISA thanks the volunteers, parents, Smith Bay Community and Department of Sports, Parks and Recreation employees for assisting in getting the facility back up after the damages from the hurricanes back in September.
This program is geared towards both boys and girls in the 5-13 years-old age group. The program will help the children mentally and physically. They will learn many life skills such as leadership, self-esteem, discipline and communication skills along with other things that will enhance their academic endeavors.
For more information, contact the USVI Soccer Association Office at 719-9707 or email us at usvisoccer@gmail.com.
Facebook: USVI Soccer Association