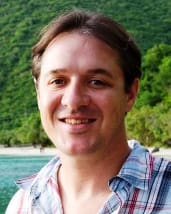 The National Academies of Sciences Committee has appointed the Virgin Islands Experimental Program to Stimulate Competitive Research's (VI-EPSCoR) Tyler Smith, Ph.D., to lead coral reef research and to serve on the committee.
Smith, a University of the Virgin Islands associate research professor of marine science, will be a part of a study on coral reef resilience. Formed by the National Academies of Sciences, Engineering and Medicine, the committee is tasked with conducting a study titled "Interventions to Increase the Resilience of Coral Reefs" (IIRCR).
The Atlantic/Caribbean coral reef systems are specified for this assessment due to their advanced state of coral reef degradation, less complex ecological conditions (e.g., smaller basin, lower diversity), and imperiled status of foundational reef building coral species compared to the Indo-Pacific, according to the IIRCR committee's directive stated at their inaugural meeting on Feb. 8.
"I am very honored to be selected to serve on this important committee," said Smith. "However, this recognition truly reflects how the hard work of many in the U.S.V.I. who have been studying coral reefs is gaining recognition at the international level."
"We are tremendously proud of Dr. Smith's achievements and contributions to the preservation of coral reefs in the U.S. Virgin Islands. His dedication to coral disease research — the Territorial Coral Reef Monitoring Project (TCRMP) and Mesophotic Reef Research — informs the knowledge he brings to the committee, and greatly impacts the quality of research taking place in the U.S.V.I.," said Kim Waddell, Ph.D., VI-EPSCoR director.
Coral bleaching events and coral diseases are by-products of climate change; warmer ocean temperatures and deteriorating environmental conditions directly impact the health of coral colonies. Research shows that it may be possible to intervene in order to support and protect threatened coral colonies.
The IIRCR committee is tasked with summarizing the existing scientific evidence, showing potential intervention options, providing an environmental risk assessment framework, developing a pathway forward, spotlighting additional research needs and accessing intervention options for the next five to 20 years.
VI-EPSCoR aims to strengthen the quality and increase the volume of nationally competitive research with strong potential economic benefits for the Virgin Islands. The current Research Infrastructure Improvement (RII) focus is the project titled, "Mare Nostrum Caribbean" (Our Caribbean Sea). Initiated in 2014, it includes a wide variety of research and outreach efforts that are planned to continue through 2019.
For more information about VI-EPSCoR, contact Dr. Kim Waddell at 693-1628 or kim.waddell@uvi.edu, or visit www.viepscor.org