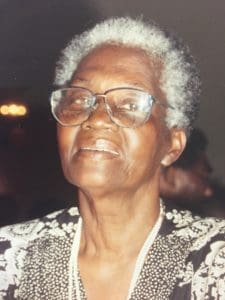 Mera Lettsome died on Feb. 25 at her residence. She was 94 years old.
She was preceded in death by her daughters: Janice Lettsome and Abigail Lettsome George.
She is survived by her children: Joyce Lettsome Jones, Blanche Roundtree, Raymond Lettsome, Mae Lettsome and Aaron Lettsome Sr.; sister, Una Scatliffe; brothers: Clarence Todman and Percy Fahie; sons-in-law: Ernest Roundtree and Macallan Jones; sisters-in-law: Rose Hedrington, Gladys Fahie and Lynette Fahie; daughter-in-law, Juanita Jones; and very special granddaughter-in-law, Silka.
She is also survived by grandchildren: Brittany Ownes, Cre'ann Owens, Kalin Callwood, Eternity Roundtree, Alvin Roundtree Jr., Shane Roundtree, Georgy Roundtree Jr., Tanique Browne, Lavnise Browne, J'ana Browne, Tahj Browne, Shana, Jordan, Jyla, Kahliya Dethridge, Rianna Lockhart, Deandra Pickering, Jahlissa Jones, Makai Pickering, Shiloh Pickering, Angela Lettsome, Tiya Lettsome, Elijah Won Lettsome, Moniqua Gumbs, Rasheem Lettsome, J'Naih Lettsome, Davontaye Florent, Xavier Clarke, Armani Coward, Neynea Clarke and Justin Gumbs.
More survivors are great-great-grandchildren: Roman Owens, Zorie Boamah-Mensah, Tanique Browne, Lavnise Browne, Jana Browne, Tahj Browne, Shana Jordan, Jyla, A'Shai Lettsome, A'dari Kuntz, Darren LaPlace, Jahiem George and Eli George; nieces: Odesa Fahie, Carol Scott, Shelbe, Ada Dickerson, Carmen and Sharlene Fahie, Laurel, Majorie, Maude, Marilyn, Gwen and Muriel, Girlette Fahie-Meek, Micah, Angela and Andre Hedrington, Roxanne and Cassandra Scatliffe, Almira Smith, Mona Donovan, Ermine and Elma Fahie; and special nieces: Erminie Fahie and Ina Blyden.
Other survivors include nephews: Robert Bailey, Gin and Flyn Dickerson, Norris and Harris Fahie, Elbert Maduro, Richard Weeks and Rodney Dawson, Melvin Fahie, Abato (Bato/Fox) and Alcedo Fahie, Lutha, Peter, Cecil and Stanley Hedrington, Ethien, Verne and Bercheal Fahie and Elvin Fahie' caregivers: Kwameka Brown, Karen Leon, Doriden Williams, and Pastor Rebecca/ Continuum Care.
Relatives and friends are respectfully invited to attend the first viewing that will be held from 5-7 pm., Thursday, March 15. A second viewing will be held at 10 a.m. followed by a funeral service at 11 a.m., Friday, March 16. Interment will be at Eastern Cemetery.
Arrangements are under the care of Hurley Funeral Home and Cremation Center of St. Thomas, St. John and St. Croix.
For online directions and condolences please visit www.hurleydavisfuneralhome.com