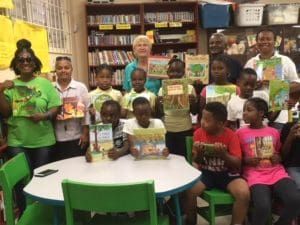 Members from Rotary Club of St. Thomas Sunrise took time from their busy work schedules recently to respond to a challenge issued by Ian H.S. Riseley, Rotary International president, to plant trees as part of Rotary's worldwide effort to improve the environment. They joined Principal Thelca Bedminister of Jane E. Tuitt Elementary School principal, several teachers and 20 very enthusiastic elementary school students to plant eight banana tree slips on school property. The slips were planted adjacent to the vegetable garden that has traditionally been a joint project between the school's students and Rotary Sunrise's members.
"Planting these trees is an important act for the Sunrise Rotary members," stated Ginny Dargan, Rotary Sunrise president, "It signifies that our club is doing its part to take positive action in Rotary's worldwide effort to address environmental issues."
When President Riseley took office on Oct. 1, 2017, he declared his presidential theme would be: "Rotary: Making a Difference." As part of his inaugural address, he issued a worldwide challenge to every Rotarian to make a difference by planting a tree before Earth Day (April 22. He based his challenge on the reasoning that Rotarians must make the world a better place by taking care of the environment; a new issue for Rotary.
Rotarians have always aimed their efforts at what they call their six areas of focus: disease prevention and treatment (Ex: polio eradication), education and literacy, maternal and child health, peace and conflict resolution, economic development, and water and sanitation.
In an excerpt from an article on Rotary's own website, Ryan Hyland describes Riseley's reasoning for adding environmental issues to Rotary's customarily full agenda: Environmental degradation and global climate change are serious threats to everyone, Riseley said.
"They are having a disproportionate impact on those who are most vulnerable, those to whom Rotary has the greatest responsibility. Yet environmental issues rarely register on the Rotary agenda," Riseley said. "The time is long past when environmental sustainability can be dismissed as not Rotary's concern. It is, and must be, everyone's concern," he said.
The president-elect challenged every Rotary Club to make a difference by planting a tree for each of its members between the start of the Rotary year on July 1 and Earth Day on April 22. Trees remove carbon dioxide and other greenhouse gases from the air, which slows global warming.
"It is my hope that the result of that effort will be far greater than the environmental benefit that those 1.2 million new trees will bring," Riseley said. "I believe the greater result will be a Rotary that recognizes our responsibility not only to the people on our planet but to the planet itself."
https://www.rotary.org/en/2017-18-ri-president-ian-hs-riseley-announces-his-presidential-theme
With his challenge in mind, members of the Rotary Club of St. Thomas Sunrise decided that they wanted to get the biggest return on their investment by not only planting a tree but by planting trees at their adopted school. The discussion continued and Sunrise Rotarians took things a step further by agreeing to plant banana trees that wouldn't just provide shade or improve the look of the school's campus but would also provide edible benefits to the students.
In addition to the tree planting, Sunrise Rotarians presented the principal with one dozen books for the school library. The 12 new children's books describe the variety of roles trees play in helping the environment by producing oxygen and reducing carbon dioxide, creating a home for wildlife and producing food.