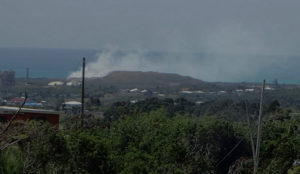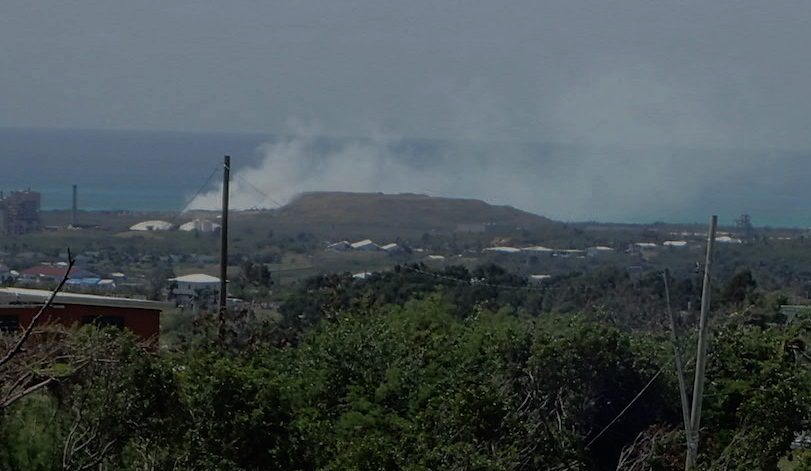 A fire at St. Croix's Anguilla Landfill continued to burn on Thursday, and a spokesperson for the V.I. Waste Management Authority said firefighters are still at the scene.
But the VIWMA provided few details about how the fire started or when it can be expected to be put out.
It took several hours before the VIWMA advised the public about an active fire in progress at St. Croix's landfill Wednesday, although photos being circulated on St. Croix showed a plume of smoke rising from the area, near the Henry Rohlsen Airport.
Newly appointed Communications Officer Charmin Springer said Thursday an incident command team was dispatched to the fire scene, adding that more details would be forthcoming.
Multiple inquiries to VIWMA Board Chairman Hairith Wickrema have gone unanswered, and requests for information placed with the V.I. Fire Service were not answered Wednesday or Thursday.
Conditions at Anguilla and the Bovoni Landfill on St. Thomas were the subject of a District Court hearing on Feb. 28. At that hearing, VIWMA engineer Tawana Albany Nicholas told Judge Curtis Gomez she could not provide information about the landfills to the court because the agency's solid waste manager, Vincent Ebbessen, was no longer on the job.
Neither was VIWMA Executive Director Roger Merritt, who was separated from his post Feb. 27.
Landfill fires have proven hard to manage in the territory in the past. In 2008 and 2011, fires at Bovoni left soot and ash on rooftops and produced smoke that was visible as far away as St. John.
In 1991, an underground fire at St. John's Susannaberg Landfill burned for six months and ultimately led to its closure and conversion into a transfer station.
Springer said she could not respond to the question of whether air quality tests have been conducted since Tuesday. For almost two decades, federal authorities have been raising concerns about adverse health risks for residents living nearby Anguilla Landfill.
Since 2010, the landfill has been the subject of a federal consent decree calling for it closure.