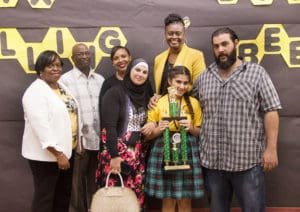 The Virgin Islands Department of Education – St. Croix District hosted its 45th Annual Intermediate Spelling Bee on Tuesday, Feb. 27, at the Juanita Gardine Elementary School. Good Hope Country Day 6th grader Hannah Neil earned the title of 2018 District champion with the correct spelling of the word "brigands," following 14 rounds of competition.
Lew Muckle Elementary School 6th grader Widad Dawod and Juanita Gardine 6th grader Jah'Quane Graham took 2nd and 3rd places in the competition. Dawood made it to round 13, but she came up short of the title by misspelling the word "incarcerated."
District Director of Curriculum and Instruction Maria Encarnacion served as the mistress of ceremonies of the Spelling Bee. Welcoming remarks by Principal Barbara McGregor of Juanita Gardine followed. She specifically recognized parents and coaches of the competitors for their selfless and hard work in their student's life.
Insular Superintendent Colleen Mae Williams welcomed attendees to the annual Spelling Bee with a few words of encouragement. "Today is the day that our 14 spellers have been waiting for; it's the battles of the words!" said Williams.
"We're waiting to see which one of you has that final word and that last letter, and everyone starts to cheer and say yes, we have a District Spelling Bee champ! Good luck and remember to have fun. We're going to bring back the title of territorial Spelling Bee champion to the island of St. Croix," she said.
Encarnacion then introduced the Spelling Bee officials. The reading of the rules by Chief Judge Jeremiah- Ambrose followed, and Spelling Bee participants then introduced themselves.
Fourteen spellers representing both public, private and parochial schools began the battle for the district title following a practice round. Claude O. Markoe's 3rd grader A'nyra Richards was the youngest among the 14 competitors. The competition lasted approximately one hour.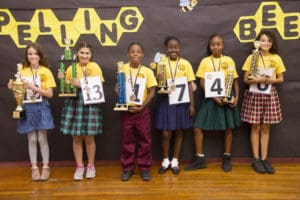 Participants received a trophy, a backpack full of school supplies and three bags filled with goodies from the district. The top six spellers will also receive an Amazon Fire Tablet, a $35 Amazon Credit Card and additional resources compliments of the United Way of the Virgin Islands.
Deputy Superintendent Faith Dane George-Boone gave the District Spelling Bee closing remarks, assuring participants that they were all winners. "They're all champions at their schools; they're champions for our district," she said.
The Territorial Spelling Bee will be held on March 27, on St. Thomas and will feature the best spellers of the St. Croix and St. Thomas-St. John Districts.
The top six finalists who will represent the St. Croix District in the Territorial Spelling Bee are: Hanna Neil of Good Hope Country Day; Widad Dawod of Lew Muckle Elementary; Jah'Quane Graham of Juanita Gardine Elementary; Aliyah Lindo of Church of God Academy; Gabriella Magras of Ricardo Richards Elementary; and Na'Kia Armstrong of Arthur A. Richards Junior High.