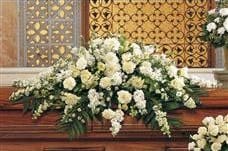 Katherine E. O'Neil, 69, died suddenly Sunday, Dec. 17, in Ft. Lauderdale, Fla., surrounded by many friends and family. Born on Feb. 22, 1948, in Chapel Hill, N.C., "Kathy" was the daughter of Katherine McCloskey and John O'Neil.
Kathy moved with her parents to Evanston, Ill., where her father was head of the Department of Economics at Northwestern University. Kathy first learned to sail on Lake Michigan and graduated from Evanston Township High School in 1966. She attended Northwestern University and graduated with degrees in economics and sociology in 1970. Soon after, she married Martin LoPareno and lived in Caracas, Venezuela, where she taught at a grammar school.
After some years she moved to New York City, went to work for Condé Nast in advertising and married Joshua Reynolds, inventor of the "mood ring." Together they moved to Los Angeles where she helped launch Self Magazine's first edition for Condé Nast while Josh developed and successfully marketed new niche products. Eager to explore a new path for herself, Kathy purchased the Doubloon, a 32-foot ketch previously owned by the actor Hal Holbrook. It proved to be a life-changing decision, leading Kathy to embark on her first solo sailing trip in 1979 from Galveston, Texas to the Caribbean, which included many stops and misadventures along the way: Isla Mujeres, Mexico, and to skirting the Cuban coast and sailing up to the Chesapeake. By 1980 Kathy sailed the Doubloon into New York's Hudson Bay intending to restart her New York City life. But the allure of Caribbean life proved too strong.
Kathy spent the next 33 years living in the U.S. Virgin Islands, in a St Thomas house perched on the cliffs overlooking Magens Bay where she continued work in advertising and cultivated artistic pursuits like sculpturing. She was a member of the St. Thomas Yacht Club and throughout her life made many friends and acquaintances both in the Caribbean and around the world. In 2013, she moved to Ft. Lauderdale.
Being a very sociable person and full of life, she made friends easily and kept them well. She was an avid tennis player, golfer and a great bridge player. Kathy was a world traveler who would meet her friends anywhere and had an inimitable style that was elegant, colorful and artistic. She was a competent sailor and navigator who was welcomed at the helm of any boat.
She leaves behind ex-husbands: Martin de Loperena of Venezuela, Josh Reynolds of Penn. and Jonathan Sanders of Mayne Island, British Columbia. Last but certainly not least, she spent 18 years with her loving companion Rob Carlin of St. Thomas, USVI. She is survived by her sister, Barbara O'Neil of Houston, Texas; her nieces: Kathy O'Neil Eden of Chapel Hill, N.C. (and her children Sean, Patrick, and Julia Eden); and Molly O'Neil Baringer of Key Biscayne, Fla. (and her children Anna and John Baringer).
Join us for an informal send-off at 2:30 p.m., Saturday, Feb. 24, on Platform Beach, St. Thomas. Bring your fondest memories of Kathy and a beverage of choice.
In lieu of flowers, donations in honor of Kathy O'Neil can be made to the Evanston Art Center (https://www.evanstonartcenter.org/donate).