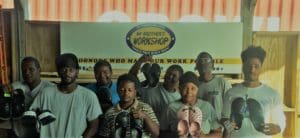 My Brother's Workshop (MBW) thanks the Boolchand Group and Crocs for donating 100 pairs of shoes for MBW's young people and for honoring their hard work in the community.
MBW trainees and staff were very happy to receive the gift; the organization will be sharing the remaining shoes with group homes for teenage kids in the Virgin Islands.
"All of our students were affected by the two Category 5 hurricanes that barreled through the U.S.V.I. last September. Some of our team lost everything they knew. Homes were destroyed and damage happened to everyone," said Jenny Hawkes, executive director of MBW. Thank you doesn't even seem to cover our gratitude for this donation from Boolchand Group and Crocs. We were able to give the shoes out right after the new year, which was perfect timing."
"Our students have been leading the way for recovery to our community. We are very thankful for the support," said Scott Bradley, program director and founder of MBW.
It is a nice way to start 2018 after such a long and hard 2017. MBW will maintain its core mission of working with youth, ages 16-24, with mentoring, counseling, education, job training and job placement. MBW's young people play a critical role in the recovery process and the direction of the territory.