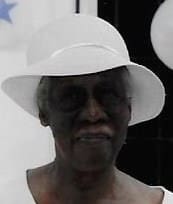 Ticy Elouise Thomas, affectionately known as "Ella" or "Miss Elouise," died on Wednesday, Jan. 17.
She is survived by her daughters: Helena "Susie" Todman, Marlene Thomas, Edotcia "Dotsie" Thomas Hodge, Cheryl Thomas and Sheila Thomas Cid; son, Hughroy "Chukoo" Thomas; adopted daughter, Joan Foy; and grandchildren: Joel Todman, Jasmin Todman, Janel Todman, Julien Tumma, Jasmine Tumma, Shenell Thomas, Duanna McClendon, Tanisha Rieara Burt, Tamia Rieara, Talibah Frett, Nailah Frett, Kristen Benjamin Randolph, Nikeya Thomas and Ny'Khai Thomas.
She is also survived by great-grandchildren: Jevon Brooks, Jayla Cuffy, Kordeysia Tumma, Korriane Tumma, Julien Tumma Jr., Maxximus Tumma, Shada Smalls, Jordan Davis, Rashid Black, Cameron Burt, Sh'Maiya Sargeant, Ra'Jai Marks and Skylar Randolph; and great-great-grandchildren: Faith Tumma and Kaiden Tumma; sisters: Dorothy Todman, Ismay Skelton, Fostina Frett and Hyacinth Adeline Thomas; brother, Teddy Thomas; aunt, Mary Magdalene Moore; and uncles: Issac "Tata" Thomas and Richard "Barracuda" Thomas.
Other survivors include nieces: Marilyn Thomas, Clarion Nibbs, Adina Romney, Marjorie "Diann" Foy-Ible, Murlene Skelton VanBeverhoudt, Yolanda Thomas, Vanessa Frett Bogans, Geraldine Smith, Arlene Smith, Dorothy Smith, Ann Smith, Vaselia Thomas and Shena Donovan; nephews: Gilroy Thomas, Vernon Thomas, Bernard Thomas, Melvin Foy, Cedric Thomas, Adrian Frett, Vincent Frett, Wilton Frett and Liston Thomas; daughter-in-law, Pauline Walter Thomas; sons-in-law: Raymond Todman, Verne Hodge Jr. and Donald Cid; sister-in-law, Erminie Thomas; and many other relatives and friends too numerous to mention.
The first viewing will be held from 4-6 p.m., Sunday, Feb. 11, at Turnbull's Funeral Home. There will be a second viewing at 9 a.m. followed by a funeral service will be held on Monday, Feb. 12, at Christ Church Methodist. Interment will be at Western Cemetery No. 3.
Arrangements are by Turnbull's Funeral Home and Cremation.