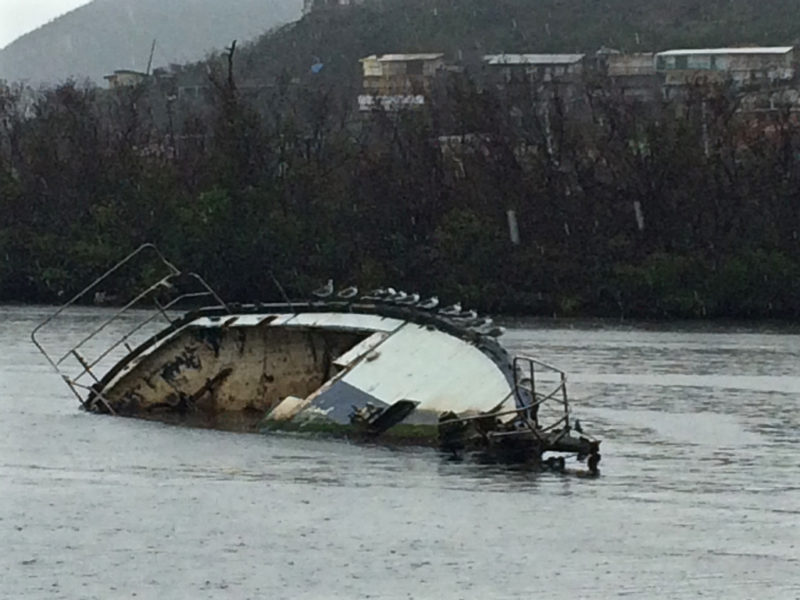 Salvage operations for ships damaged, sunk or driven ashore by September's hurricane onslaught have been completed on St. Croix, the U.S. Coast Guard reported Monday.
In a news release issued Monday, the Coast Guard said that, in accordance with the rules for oil and hazardous-materials incidents, ships and pollutants that where identified in assessments after Hurricanes Irma and Maria have been removed from public lands and waterways. The vessels were salvaged and emptied of pollutants, then returned to the owners or placed in a staging ares in Christiansted on St. Croix. The V.I. Department of Natural Resources is overseeing the further disposition of the vessels.
"As we finished vessel recovery on St. Croix, we have been relocating salvage resources to St. Thomas and St. John to further support the ongoing salvage operations," said Cmdr. David Reinhard, the Coast Guard incident commander. "Our mission here is to mitigate the pollution threat posed by these sunken vessels and to protect the public and maritime environment."
Vessel owners had faced a Dec. 1, 2017, DPNR deadline to declare their intent for their property. Owners who declared they intend to self-salvage or have an insurance claim have until Jan. 22 to remove their vessel and related debris and pollutants.
To date, more than 265 vessels have been salvaged through owner insurance, direct owner salvage or under ESF-10 operations, according to the Coast Guard. Operations are being conducted to address more than 440 hurricane-displaced, damaged, sunken and aground vessels.
Owners can contact DPNR through the Vessel Owner Notification Hotline at 340-423-6353 or by email to usvidpnr@gmail.com.