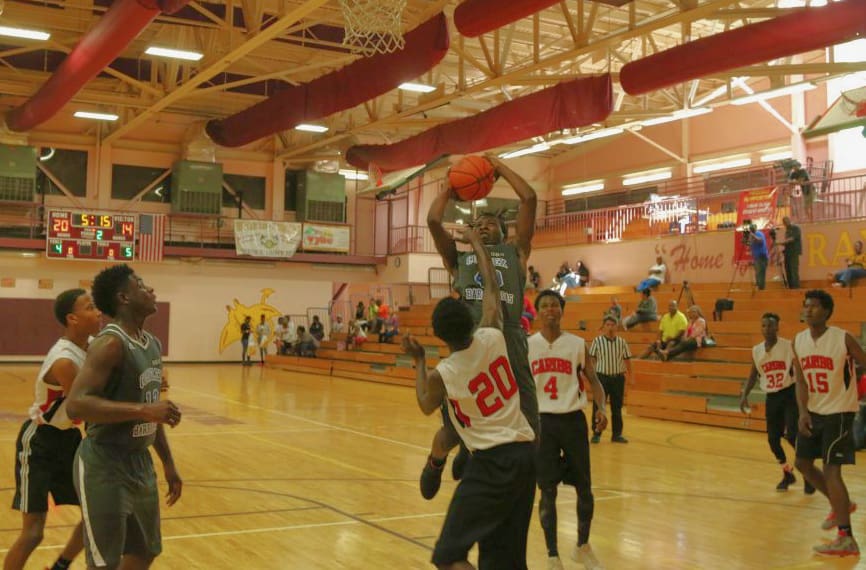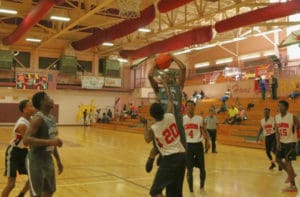 This weekend's Martin Luther King, Jr. basketball tournament gave island rivalries the chance to shine.
Wrapping up the weekend's action, Charlotte Amalie High School's Lady Hawks beat Ivanna Eudora Kean 45-21 on the women's side, while St. Croix Educational Complex pulled away in the second half of the men's championship game to beat Central High School 53-46.
The first half of the men's game was close, but Complex took a 24-19 lead into the half. To begin the third period, Central went on a 10-2 run, capped off by a lay-up from Jahmai Jones, which put the Caribs up 29-26. Complex coach Kevin Sheppard called a time out to regroup his team and it looked as if it worked: the Barracuda's defensive intensity picked up and moments later, a fast break that lead to a lay-up from Breyden Roberts gave Complex the lead, 30-29.
Complex didn't relinquish the lead again, and went on to win 53-46.
"I challenged the guys at the end of the third to really go after the game," Sheppard said. "Don't force Central to quit, don't let anyone lay down, just go after the game. Because I found that the guys were coming to the bench making a lot of excuses, and that's normal, but you have to play the game as hard as you can for as long as you can and if you do that, the winning and losing will just take its natural course."
Sheppard added that the advantage of both teams playing teams playing each other throughout the year and during the summer is that there is "no mystery" on the court.
"We were able to stay calm and anticipate when Central was going to make a run," he said. "The number one thing was to get the rebound. We had to stop the outside shooting for Central. At one point, they were starting to shoot threes, so we went to a box-and-one, taking away their best shooters. Normally, most of the teams around here run their offense through the point guard so I like to take away the guard. You take away the head and the body will follow."
Leading scorers for Complex were Kahdeem Horsford, who finished with 14 points, and Roberts with 13. Horsford was named tournament MVP. For winning the tournament, Complex received $2,000 for its sports program from tournament sponsor McDonalds.
For Central, Kimani McIntosh finished with 16 points, while Haysely Durand finished with 14.
With only two teams participating on the women's side, CAHS and Kean spent Friday afternoon and Saturday in exhibition games before heading to the championship on Sunday.
According to Interscholastic Athletic Association (IAA) officials, Antilles School was expected to field a team but pulled out, leaving hopes for a full season up in the air.
Still, CAHS dominated Sunday, winning 45-21.
"Considering all that we've been through since the hurricanes, I feel pretty good about our team this year," Lady Hawks coach Jelani Horton said. "We lost our gym at CAHS, so we've had to practice outside in the sun, on asphalt courts, so it's been mentally challenging. With all of that, I was very pleased with the team's attitude and effort, and we just have to keep worker harder every day."
Speaking later, IAA president Mark Daniel said the territory's entire school sports program has been affected by Hurricanes Irma and Maria in September, and this week's tournament was no exception. Another five teams were expected to come down from the mainland, but didn't make it this year due to a lack of hotel rooms, while neighboring Tortola isn't expected to participate until next year.
"It has been good for our athletes to get back on their feet, to get some kind of normalcy despite all that we've been through," Daniel said. "It's been a long road, but the IAA is doing its best to keep things running and make sure these seasons are productive for our students."