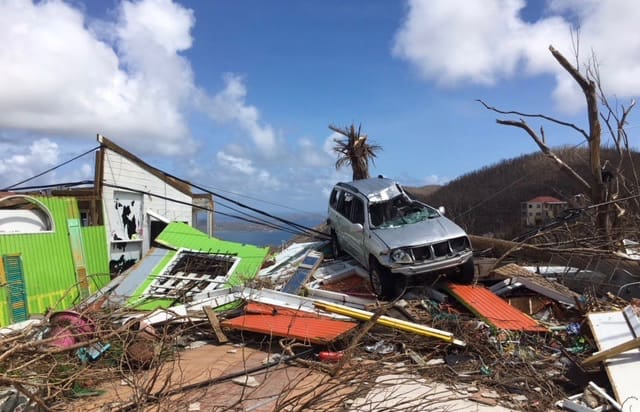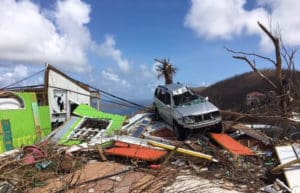 The deadline for applying for federal disaster assistance for physical property damage is Monday, and Tamara Jackson, a public affairs specialist with the Small Business Administration, wants to make sure everyone who has borne any losses from Hurricane Irma or Maria registers with FEMA and the SBA.
"I'm not selling loans, but I am absolutely pushing opportunities," Jackson said.
At the Wednesday morning VITEMA briefing in Cruz Bay, Jackson told St. John residents that as of Tuesday the SBA has given out more than $272 million in loans throughout the territory; more than $20 million of that amount has been approved for residents of St. John.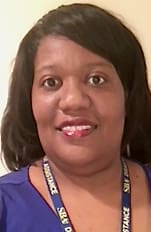 "FEMA can't do what SBA is charged with," said Jackson. "They are the first response to a disaster, but for the long-term recovery, we're the agency in charge."
"Don't let the word 'business' in our name mislead you," according to an SBA handout. "Following major disasters, the U.S. Small Business Administration is the primary source of federal funds for long-term disaster assistance.
"The assistance is in the form of low-interest loans, and is available to homeowners, renters, and non-farm businesses of all sizes, as well as private nonprofit organizations with property damaged by the disaster," the handout continued.
Jackson said SBA has a specific place in the ,disaster relief process.
"When a disaster is declared, the first thing a survivor should do is go to FEMA. Then if you're referred to SBA, even if you don't think you can afford it, make the application anyway. If you're a homeowner or a renter, and we determine you can't afford a loan, we may refer you back to FEMA."
Several misconceptions may be causing people to hesitate to apply to FEMA and SBA, Jackson said. One of the most common is that a homeowner or renter who has insurance will be automatically be turned down.
"The SBA covers uninsured losses, which can mean that you have insurance, but there's a gap between what you need to rebuild and what you can get from an insurance claim," said Jackson.
This especially applies to people whose property was underinsured or to those who have high deductibles which must be met, she said.
"After you've settled with the insurance company, you may find that there's more need, and then it's too late to apply," she said.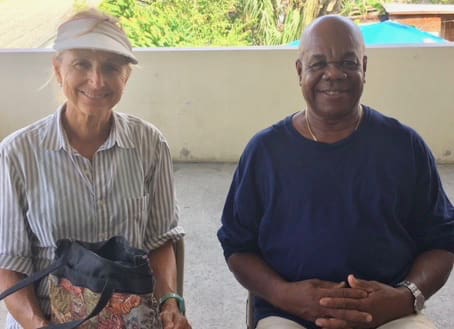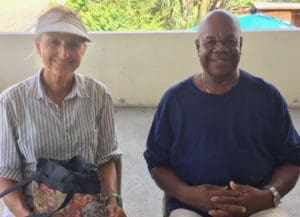 Mahlon "Koko" Pickering is one St. John resident who applied for an SBA loan when the doors of his residence blew in during Hurricane Irma and a storage shed blew completely away. He lost most of his furniture, tools, and clothes.
"I found the process very, very professional and very quick," said Pickering. "I came in, asked questions, got some emails, and in less than a month, I was approved. I'm just finishing getting the documents that I needed."
Pickering said he had heard discouraging tales from other people who had applied for assistance, but said he found these people were not always getting the right information.
"I find people are not going to the proper source. If they go to people on the street, they are misled," he said.
"Each situation is different," said Jackson. "Don't think about what happened to a neighbor and think, 'I'll be turned down.' There may be other options available. There may be other things you can do to address the problem, such as adding a co-borrower or co-applicant with more credit."
Jackson said that any applicant has the right to appeal, and an application that is updated and resubmitted will be read "with a fresh set of eyes."
Interest rates vary depending on the applicant's financial situation. The loan rate for homeowners might be as low as 1.75 percent; the rate for private, non-profit organizations begins at 2.5 percent; the rate for businesses begins at 3.305 percent. The rates can, and sometimes do, go higher.
SBA offers assistance to several categories of disaster survivors. Renters may be eligible for loans of as much as $40,000 to repair or replace their disaster damaged personal property, including automobiles, according to a handout.
Homeowners may be eligible for up to $200,000 to repair or replace disaster damaged real estate, plus up to $40,000 to repair or replace their disaster damaged personal property. Boaters whose vessels are their primary residence can also apply.
Borrowers will be required to provide a detailed credit history that is acceptable to SBA and prove that they have the ability to repay the loan.
Approved homeowners can borrow as much as $25,000 in unsecured loans. Those who wish to borrow more can do so, but as with any major loan, SBA will require a borrower to put up collateral, which may include the home that is being rebuilt and land on which it is situated. SBA will put a lien on the property until the loan is repaid, and this has scared off some borrowers.
One self-employed businesswoman said she was uncomfortable having a lien put on property she had already paid off once, in order to borrow SBA funds to make repairs from Hurricane Irma. At her age, she said, she wasn't confident she could afford the secured loan that was offered, and would choose instead to take the $25,000 unsecured loan SBA offers.
Photographer Steve Simonsen and his wife Janet, however, were more than happy to take out the maximum loan possible to rebuild their house in Great Cruz Bay which was destroyed by Irma.
"We got a great loan, 30 years at 1.75 percent interest rate," said Janet Simonsen. "The problem is the cost of building on St. John. We had a three-bedroom, two-bathroom house before. Now we can only afford one bedroom and one bath. But it's an incredible loan, it's our only option, and we're not leaving the island. So thank you, U.S. Government."
One common misconception is that SBA loans are not fixed rate, and payments might increase over the course of the loan. Jackson said SBA loans for this disaster are fixed rate, and a borrower can take as long as 30 years to repay the loan.
However, the SBA might require a borrower to get insurance for the property, and rates for insurance can certainly rise over time.
One St. John businesswoman who had moderate damage said she was all ready to accept an SBA loan for her home at the maximum rate until she went to get an estimate from an insurance company on the yearly premium costs.
"They told me the annual premium for my home would be between $17,000 and $20,000. I'm not doing it," she said. She was therefore planning to take out an unsecured loan from the SBA for $25,000.
Another St. John resident who lost everything in the storm – the house and almost all the contents – said she applied for a loan and was accepted, but she wasn't ready to face the prospect of starting to build a home from scratch. After she did not turn in her acceptance form within a month, she was notified by SBA that her application was "withdrawn."
Jackson explained that this resident's application could be reactivated within the next six months if she chose to go ahead and build.
"SBA loans are not for everyone," Jackson said. "But I believe in the program. That's why I do what I do. I'm wherever there's a disaster – Katrina, Wilma, Rita, the Mississippi flooding, tornadoes, Superstorm Sandy. This is a job where I can see my impact. It feels good when you see something reopen."
She said she's worked in disasters where people have said they can get better loans rates from banks and other lenders. She said she asks them to show her the offers in writing.
"If you can get credit at a better rate, fine! The SBA program is designed to help those who have the greatest need and might not otherwise have access to a full recovery. Our program was designed to put you back to where you were before the disaster."
Jackson urged everyone who applies for a loan to makes sure they fully understand all the terms of the loan. She also encourages those who have questions to seek legal advice, which is available from attorneys for free from 10 a.m. till noon Saturdays at the Cruz Bay Disaster Recovery Center.
Youville Leatham, who is now working part time as a counselor at the Disaster Recovery Center on St. John, said she had applied for an SBA loan and was waiting to hear if it is approved.
"Who's going to give you a loan at such an interest rate?" she asked. "Not the bank. Not the credit union. Not the Retirement System. Sometimes we're given an opportunity and we think of it as a burden and not a stepping stone."
Shared content for Virgin Islands Source and St. John Tradewinds.