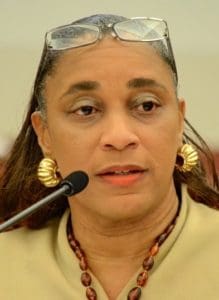 Superior Court Judge Renee Gumbs-Carty has ordered the Economic Development Authority to turn over records about its loan practices, with a January hearing scheduled for lawyers to discuss details.
In the civil suit brought by the Daily News Publishing Company against Wayne L. Biggs and the Government of the Virgin Islands, Carty declared in a Nov. 30 ruling that the loan information is part of the public domain.
The case was brought before the court on June 5. According to subsequent reports appearing in the media, the plaintiff sought the information after a report by the Virgin Islands Inspector General pointed to mismanagement within the EDA loan program.
That finding – contained in a March 7, 2016, audit report – noted that more than 80 percent of loans issued by the EDA through the Government Development Bank were not paid back.
What happens next is up to the EDA. The judge ordered loan related documents be handed over to the local newspaper, which requested the information under the Public Records Act.
If EDA officials comply with the judge's order, the handover could take place some time after the new year. The court ordered two actions involving legal teams in January.
The Public Records Act gives citizens of the territory and media organizations the right to obtain and inspect public records. Carty ruled that the reason the EDA turned down two written requests by the newspaper for details about their loan activity was based on interpretation of the law and not on material fact.
And, the judge added, despite its status as a semi-autonomous entity the EDA is an extension of the government and provisions of the Public Records Act apply.
Attorney General Claude Walker represented the Government of the Virgin Islands in the civil suit. He argued that some of the loans the newspaper sought information for may be attached to agreements subject to disclosure laws.
"Some of the loans go back, sometimes 20 years," Walker said. He added there's no telling which of the contracts administered though the Government Development Bank may include disclosure language.
The Government Development Bank is one of five entities existing under EDA. But in the Nov. 30 ruling the GDB was identified as one branch of an extension of the local government.
Now it's up to EDA Chairman Henry Smock to comply with the judges' ruling. An indication of his willingness to do so may appear at a scheduled Jan. 10 hearing at which lawyers will argue over who pays for legal fees incurred in the case.
A source familiar with the case who asked for anonymity raised a possibility that EDA officials might appeal.