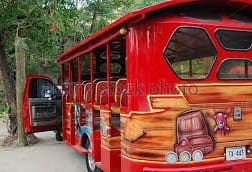 The V.I. Department of Public Works – Division of Transportation has announced that the Bordeaux and Hidden Valley bus routes will resume service on Monday, Nov. 13.
The Bordeaux route will resume its regular service three times per day.
The Hidden Valley route's frequency is dictated by traffic patterns due to the higher volume of passengers that usually traverse on this route. Knowing this, bus operators have been urged to exercise caution while driving the Hidden Valley route because there are still areas where debris is restricting portions of the roadway.
Red Hook is the final route remaining to be reinstated on St. Thomas, but current road conditions do not allow for the safe travelling of VITRAN's fleet in that area. Assessment teams will continue to monitor conditions and will re-evaluate their decision once road conditions improve.