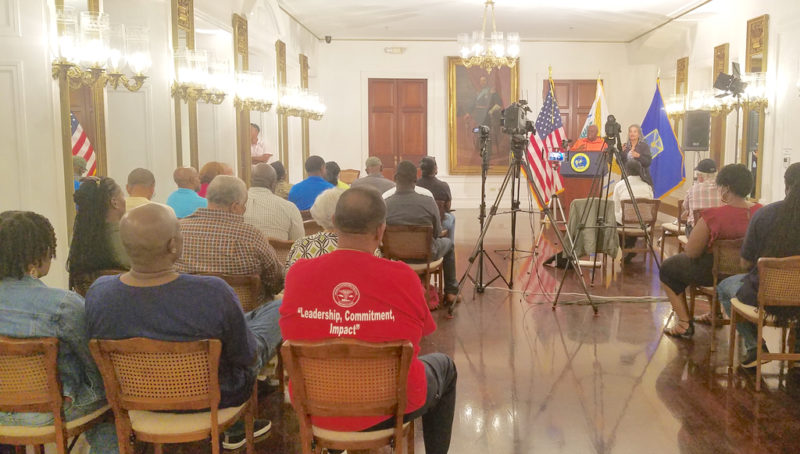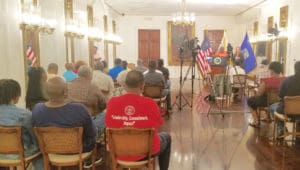 Gov. Kenneth Mapp said that by the end of October the U.S. Virgin Islands will have almost 500 linemen working in the territory to restore power.
Speaking at a Friday news conference updating hurricane recovery progress, Mapp also said USVI ports will be open to cruise traffic as of Nov. 11, with St. Croix having as many as 90 port-of-calls for the season. St. Thomas ports-of-calls for the season will be announced next week.
Prior to Hurricane Irma and Maria, the Department of Public Works had contracted with private companies and now those companies will be responsible for putting frames on houses that have been rejected by the federal Blue Roof Program. The Blue Roof Program rejects applicants who don't have enough of a roof frame for a tarpaulin to be attached to. Thus, the pre-hurricane contractors will be responsible for putting on enough of a frame for a tarpaulin to be attached and they will attach the tarpaulins themselves. Those individuals who already registered with the Blue Roof Program and were denied do not need to register again, as the rejected applications have been recorded. They will be contacted about erecting partial roof frames.
The contracted linemen are starting to enter the territory, with 60 linemen arriving on St. Thomas on Friday and 100 due to arrive on St. Croix on Saturday, followed by another 50 to St. Thomas on Sunday, and another 30 or so to arrive in the territory early next week. An additional 250 linemen will then arrive in the territory by the end of October, making the total number of out-of-territory linemen close to 500, ten times the number of crews that are on-island right now, and will enable the USVI to light up 90 percent of the territory before Christmas.
The governor is still in talks with the Army Corps of Engineers on how to place the power grid underground in main sections of the territory.
Mapp also said he will ask for the mid-November deadline to be extended by 60 days because many people in the territory lack power and have issues with communication and have not yet been able to request help. However, Mapp did offer a suggestion for those who are staying with others due to issues with their home and who have asked for help and will be receiving funds from the federal government. Mapp said "If you're getting assistance for the household, try to put something in the pot," noting that those who are offering their houses will know that individuals living with them are getting assistance.