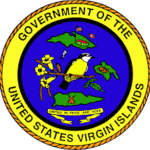 Road work will soon commence in Scott Free, Drake's Seat and Crown Bay on St. Thomas. Gov. Kenneth E. Mapp signed-off on contracts that were finalized last week.
Custom Builders was selected to replace the bridge and make other improvements to Scott Free Road on St. Thomas. This $1.26 million project is funded by the Federal Highway Administration (FHA).
Rumina Construction will be responsible for making repairs to Route 40 near Drake's Seat. This $287,573 project has been on hold since 2014, and funds were identified to complete the work earlier this year.
Sidewalks and drainage will be improved in the Crown Bay area. This major project will alleviate flooding and make Crown Bay safer for pedestrians, including the many cruise ship passengers that disembark there. Island Roads was selected to complete this $2.8 million project funded by the FHA.
"These projects will address some significant problems on St. Thomas," the governor said. "We look forward to the work getting underway as we have many other roads, including those newly damaged by Hurricanes Irma and Maria, to repair."
All contracts went through a formal bidding process with the V.I. Department of Property and Procurement and were reviewed by the solicitor general at the V.I. Justice Department for legal sufficiency.