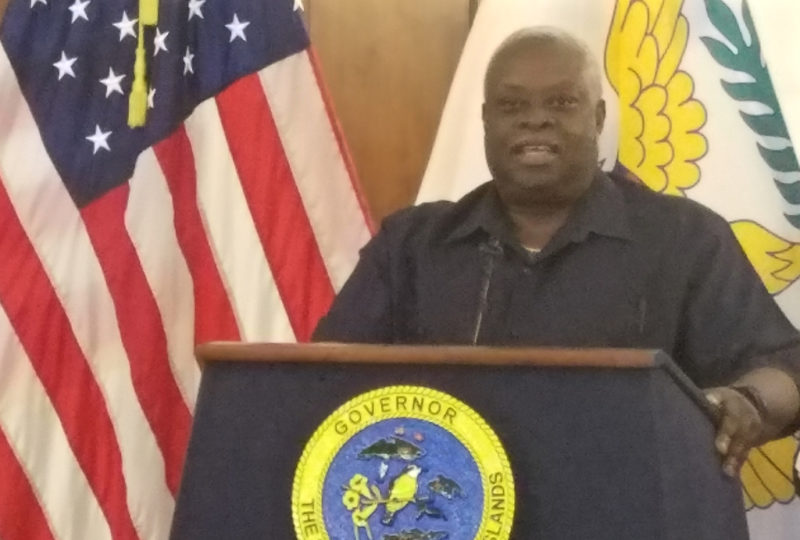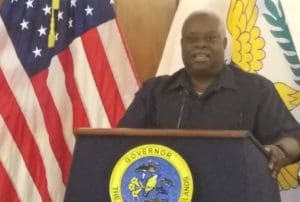 The Army Corps of Engineers is working on ways to expand its "Blue Roof" program to install temporary tarp roofs on damaged homes, to be able to work on homes missing more than half their roof framing, Gov. Kenneth Mapp said at his Tuesday evening news conference.
Operation Blue Roof is available at no cost to eligible primary homeowners in the U.S. Virgin Islands.
Eligible Virgin Islands homeowners who sustained roof damage from Hurricane Irma and Hurricane Maria can apply. Residents must complete the Right of Entry form that allows government employees and contractors onto their property to assess damage and install a temporary covering. They are designed to last a minimum of 30 days.
FEMA's Federal Coordinating Officer William Vogel said 282 of the temporary roofing repairs had been installed in the territory so far. The pace has been picking up, with 63 new ones installed Monday and another 77 Tuesday, with eight on St. John, Vogel said.
"They are making a little bit better progress," he said.
He said FEMA has a "crisis action team" working on what they need to do for interim sheltering facilities while people have their homes repaired.
Supply Distributions End Thursday
Supplies will be given out at distribution points on Thursday, but that will be the last distribution for the time being, Mapp said.
"We have got over eight weeks of hurricane season to go, so we are going to hold onto some of our stock," he said. He added that many residents will be eligible for extended Supplemental Nutritional Assistance Program benefits to restock food spoiled or lost after the storm.
On power restoration, the Water and Power Authority is prioritizing the area around St. Croix Central High School, Herbert Grigg Home for the Aged, St. Croix Superior Court and Educational Complex first, "because they are all in the same area," Mapp said. They will be trying to add individual houses as they go, when the poles and transformers are in place.
Also, he said "very, very soon we hope to energize Cruz Bay," on St. John.
So far, only about 20 percent of St. Thomas has power, while only 10 percent of St. Croix does. The numbers go up and down on a daily basis, as crews find they need to cut power to replace more infrastructure.
Cell service is reportedly improving, with 40 percent of cell towers on St. Thomas and St. Croix back in service. St. Thomas is still down, but there are several cellular hot spots and radio repeaters have been set up so some data and internet is able to be transmitted.
The pace of repairs should increase soon. Mapp said 265 linemen are arriving Thursday, with a barge of equipment. He said the plan is to roll them out Friday morning.
Deadlines To Sign Up For Unemployment
Labor Commissioner Catherine Hendry urged people to come sign up for either regular unemployment benefits or special disaster unemployment insurance. Initially, only those rendered unemployed by Hurricane Irma were approved for disaster unemployment insurance but the federal government has now approved Hurricane Maria too, she said.
The disaster unemployment insurance is specifically for those who are not eligible for regular unemployment insurance, she said. Independent contractors, small business owners, taxi drivers and fishermen are among those to whom it applies, she said.
The deadlines to apply are: Oct. 30 for Irma-related unemployment and Nov. 7 for Maria-related unemployment.
People can apply Monday, Wednesday and Friday: On St. John at the St. John Legislative Annex from 10 a.m. to 3 p.m.; on St. Thomas at their offices at 2353 Krondprindsens Gade, from 9 a.m. to 4 p.m. and on St. Croix from 10 a.m. to 4 p.m. at Juanita Gardine Elementary School.
Curfew Changed
Mapp said that after discussions with Police Commissioner Delroy Richards, they came to the decision to shorten the window of open travel before curfew.
"The evidence is clear that 8 p.m. is not a safe time for the curfew," Mapp said, adding that there had been a number of car accidents in the evening.
Curfew on St.Thomas and St. John is now 7 p.m. to 5 a.m. On St. Croix, curfew is 7 p.m. to 8 a.m.
Government Pay
Government employees can expect to get overtime on their paychecks on Thursday. If it does not happen Thursday, they plan to have a second payroll just for overtime, Mapp said.