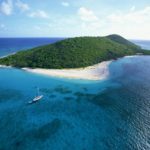 To streamline the process, reduce redundancy and ensure important information is not obscured by routine messaging, the "Daily Hurricane Update for the Caribbean" will no longer be distributed via e-mail.
Interested parties wanting to view the daily updates are encouraged to use the National Park Service (NPS) Severe Weather Response website, where the updates will be posted.
Any specific questions regarding the recovery efforts may still be directed to EIMT_Information@nps.gov.
All immediate release or emergency items will be pushed via email and posted to the NPS Severe Weather Response.
Thank you for your continued support of the Hurricane Recovery of the National Parks of the Caribbean.