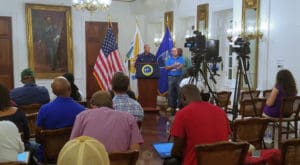 U.S. Surgeon General Dr. Jerome Adams was on-island Thursday to help plan modular hospital units for the territory, and Vice-President Michael R. Pence and his wife Karen will visit Friday to tour the territory and discuss recovery issues.
News of the visit was announced Thursday at Gov. Kenneth Mapp's daily hurricane recovery update.
Mapp also announced that he has rolling back the curfew hours a little more as the recovery continues, extending non-curfew hours to 8 p.m. on all three islands until Tuesday.
In two to three weeks, the territory will have partially functioning modular hospital units to temporarily aid residents for their emergency medical needs while both hospitals on the island are being repaired. Once fully functional, these modular units will be able to provide the same level of medical service as any accredited hospital facility, with sterile surgery centers and dialysis facilities, Mapp said.
Adams flew over the territory Thursday and made recommendations based on what he saw.
"This truly is an unprecedented situation," Adams said, referring to the fact that supplies could not be bused in and individuals could not be bused out of the territory after the hurricanes hit.
"Here we are restricted, we will never be as fast as we want to be," he said.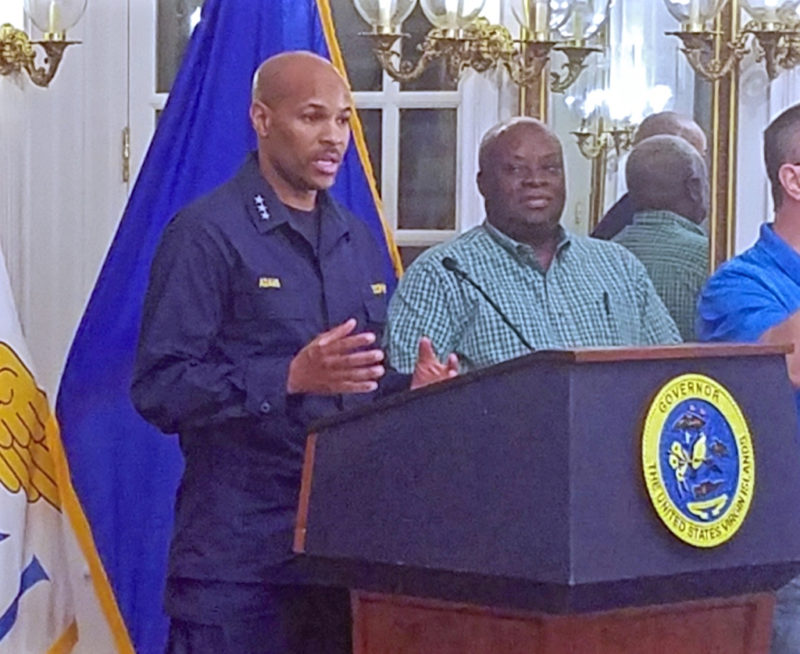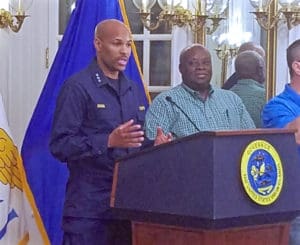 However, Adams was optimistic on the progress the territory has made, and ended by saying "We have not forgotten you," referring to the federal government's relationship with the Virgin Islands. Adams also will make sure the territory has enough supply of medications that the pharmacies have been unable to provide due to FedEx and USPS not yet operating at full strengths.
Mapp said that after meeting with Gen. Diana Holland, commander of the U.S. Army Corps of Engineers, South Atlantic Division, regarding the shortcomings of the Blue Roof Program, he concluded that the Blue Roof Program will not be able to meet the current needs of the Virgin Islands short-term and has directed his staff to do an immediate inventory of room stock in the territory to relocate residents into rooms with roofs to keep them safe from the elements such as thunder storms and heavy rains.
The shelter at Canageta Ballpark will close as of 2 p.m. Friday. The Virgin Islands Housing Authority was on-site on Thursday assessing the housing needs of individuals, reported that it is making all efforts to ensure that individuals have a place to go once the shelter is closed.
Commenting on concerns that Frederiksted has no power, Mapp said that Frederiksted did have power but that the grid in Frederiksted was compromised after the hurricane. The Water and Power Authority is working to fix the issue as soon as possible, Mapp said.
"It is not going to be sprint, this is the long haul," Mapp said of the pace of repairs.
Tourism Commissioner Beverly Nicholson-Doty announced that both territory airports are now open and operating commercial flights, with on-site customs operating as well. Within seven to 10 days, the territory will start having on-site visits from cruise line executives who will assess future visits, she added.
Mapp also announced that senior centers will start reopening, starting Tuesday with the Richmond Center on St. Croix. VI Tran services on St. Thomas has also begun transportation services.
Mapp ended his press conference Thursday by announcing the curfew change. Until Tuesday, curfew in the St. Thomas/St. John district will be from 8 p.m. to 5 a.m. On St. Croix the curfew will be from 8 p.m. to 9 a.m. The governor said he hoped that after Monday, these would remain permanent until the next decrease. The new decreased curfew will allow residents of the territory to celebrate Puerto Rico Friendship Day on Monday.