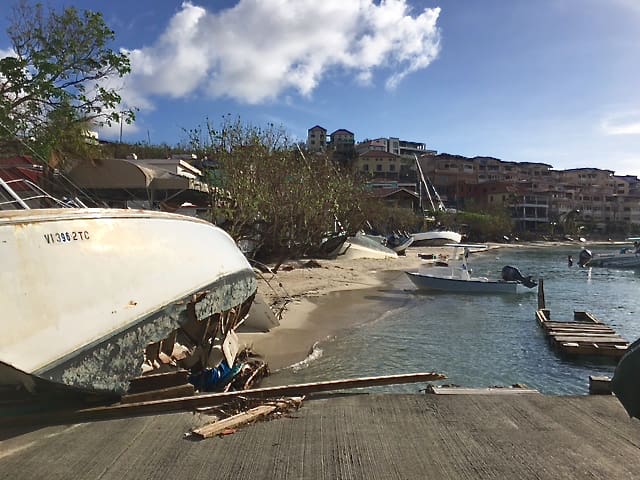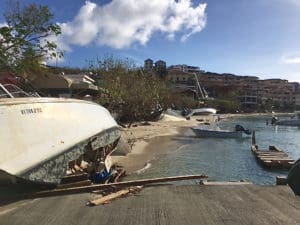 Boaters on St. John have seen some pretty violent hurricanes in the past three decades, but nothing compares to Hurricane Irma, which arrived Sept. 6 with sustained winds of 185 mph.
The eye of the storm passed right over the east end of the island, according to one St. Thomas boater who spent the night in a shanty near Hurricane Hole. His boat was anchored in one of the four mangrove-lined bays that have been traditionally considered the safest place to weather a storm. His boat is one of the many victims that now lie among the mangroves.
A couple of weeks after the storm, live-aboards Richard and Mary Burks dinghied through Hurricane Hole – Princess, Otter, and Water bays, and Borck Creek, where their boat was anchored. It was one of the few that remained afloat.
"We casually counted about 75 boats, and of those maybe 16 were floating," said Richard. "The rest were ashore, or in a pile, or sunk."
Mary estimated that no more than five of the boats afloat had masts that were intact.
The National Park Service and other federal agencies have been using aerial mapping to assess the damage in Hurricane Hole, which lies within Virgin Islands National Park boundaries. At a public government briefing Thursday, officials announced that they completed a report, but details were not yet available.
The VINP coordinates the mooring system in Hurricane Hole. At the start of each hurricane season, boaters apply for a spot to anchor or to hook on to chains that are moored in some of the bays. The chain system was developed to prevent boaters from tying into the mangroves – a protected species – during a storm. It's unclear whether the chains became untethered or held fast.
Park officials don't know exactly how many boats were in Hurricane Hole during Irma. The Park Service issued almost 120 permits but not every boat may have weathered the storm there, and certainly others that weren't permitted arrived seeking shelter.
"You can't turn people away," said one park employee.
Richard Benson, captain of the charter boat Goddess Athena, reportedly tried to anchor in Hurricane Hole just prior to the storm, but was discouraged by other boaters who were concerned that his boat could not be adequately secured. He was last seen sailing out of Coral Bay on his way to the British Virgin Islands. The only known fatality from St. John, Benson's body was later recovered in the BVI.
Park employees who toured Coral Bay harbor by boat counted 66 boats that were sunk.
"You could see boats under boats under boats," one employee said.
Richard and Mary Burks estimated that of the 25 boats that had tied up in the creek in Coral Bay, only one was afloat.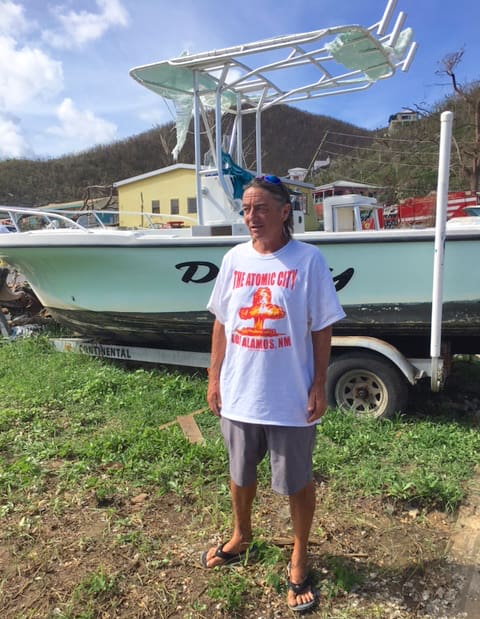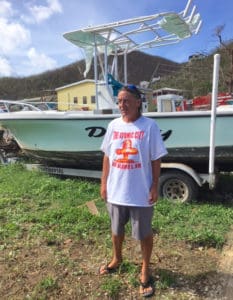 Douglas McLean, who moved to St. John five years ago from St. Thomas, said he lost everything, including a trophy from winning the Sabot National Championship, when his boat Wanderer was destroyed in the hurricane.
McLean said he had been living on boats since he was 10 years old. Once the director of the sailing program at the St. Thomas Yacht Club, McLean said he had been teaching sailing in Coral Bay for the past several years and had lost seven boats in all.
"My girlfriend left me the day before Irma for a guy with a generator," he said. "I don't know which hurts more."
"Emotions are what drive life," said artist Richard Pinto as he listened to McLean's story. "I'm not going to play Aristotle, but the body is there to serve the soul."
McLean said he stayed at the home of a friend during the storm. It took four days before he could get to see his boats because his dinghy was also destroyed.
"The devastation was everywhere. No one was spared," he said.
One woman who lived aboard her boat but has since moved to the States said boat owners were scrambling to get their boats afloat before salvage companies arrive. In some jurisdictions, salvage companies take over ownership of vessels they salvage.
One National Park official suggested that that it would be awhile before contracts could be signed with any salvage companies. Prior to that action, it would be necessary to assess which natural resources would be most likely damaged by the grounded and sunken vessels. Since most of the boats were permitted to be in Hurricane Hole, the owners would be contacted before any action would be taken.
Everyone agrees that owners who can remove their boats are wise to do so.
"Sunken boats are toxic waste zones. There are lots of chemicals leaking and floating about," one boat owner said. "The problem is there are no working marinas anywhere near us. Our plan was to take our boat to Fajardo, Puerto Rico, before Hurricane Maria."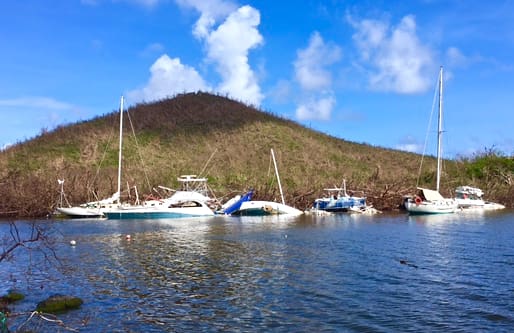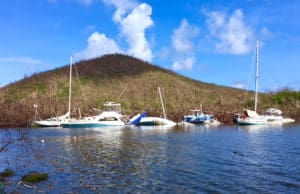 Hurricane Maria, also a category 5 storm, ripped through the territory on Sept. 19 and resulted in heavy damage in Puerto Rico.
Nanny Cay on Tortola, where many St. John boat owners stored their boats on land during hurricane season, also suffered severe damage. One St. John couple, unable to contact the boatyard by phone, took their 10-foot dinghy to Tortola to find out the condition of their boat before taking a trip to the States. They found the boatyard fenced in and locked but managed to gain entry and locate their boat.
They said the docks were gone, and hundreds of boats, many propped up on stands, were damaged.
"A boat fell on us, and we fell on another boat, which kept us from falling over, but not before it put three holes in us," said one of the owners.
"I can fix the holes, but I don't know what the damage is on the inside," he added. The couple just finished moving to a new location because the building that housed their businesses was destroyed. They plan to take that vacation in the States, and deal with it upon their return.
In Coral Bay, the steel-hulled sailing ship Silver Cloud remained afloat but was dismasted. The sailboat Rain Maker and one other boat remained afloat, according to several reports.