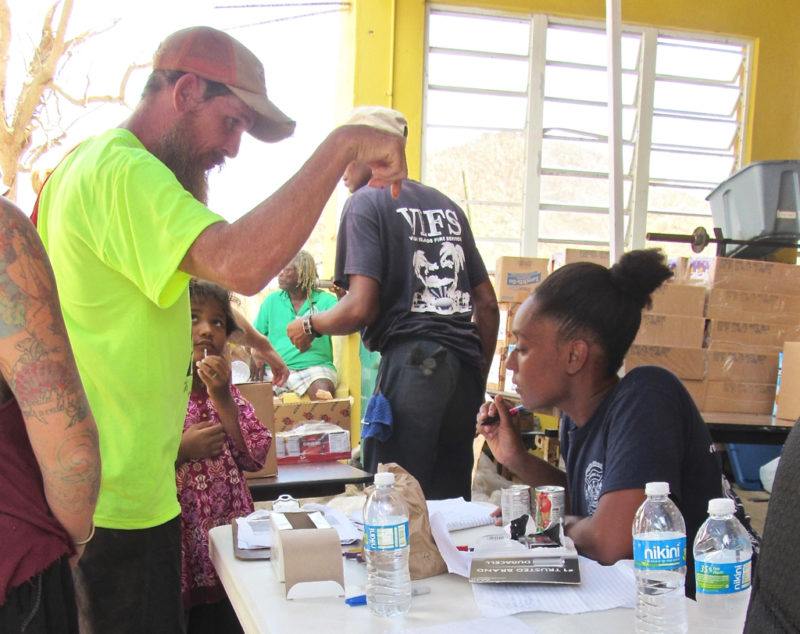 If stormy weather systems could add insult to injury, Hurricane Maria did just that to east St. John on Sept. 19. It rolled over the town of Coral Bay — 13 days after Category 5 Hurricane Irma — and left a special treat in the middle of a landslide covering Centerline Road.
During Hurricane Maria, a loaded septic tank slid down from a house perched above the roadbed and sat in the middle of the pile. The risk of rupturing the tank while clearing tons of dirt and rock left an earth mover standing idly by while Public Works and contractors figured things out.
Motorists were left to inch their way through a gap cleared for passage between the slide and a guardrail in the westbound lane.
Within two days, a solution was found. Workmen drained the septic tank and cleared away more debris. Getting back and forth got a little easier.
It was another chapter in September to remember, part of the emergency response in and around St. John's small eastern town. Responders have faced several setbacks, including damage to an ambulance deployed before Irma.
In the absence of communication, some area residents have wondered if the outside world remembers their plight. Linda Williams, disaster response coordinator for the territorial emergency management agency says yes.
"Our focus on Coral Bay has been distribution," Williams said. Distribution of Meals Ready to Eat, water and toiletries began with two days of Irma's passage. Government and private donations aided in the distribution of toiletries, canned goods and plywood, as Maria approached days later.
Private donations also arrived with help from Coral Bay born Olympic sailor Maumi Roller. According to her mother, Josephine, Maumi — known as Mimi — sailed supplies to her home town from Puerto Rico with help from friends.
The director of the Coral Bay Community Council, Sharon Coldren, addressed community members from the balcony of the Town and Country Real Estate Building daily. From the balcony, residents have learned about the Adventure, a vessel taking those who wanted to leave the island to St. Croix from the municipal dock behind the Coral Bay firehouse.
About 35 area residents left aboard the Adventure. A second ship, the Coast Guard cutter Valiant, arrived Sept. 18, with an offer of passage to Puerto Rico as Maria approached.
"Right now, we've got about seven people and a dog," said USCG Chief Michael Perez as he waited at the municipal dock for those who wished to leave.
Most remaining residents of Coral Bay and surroundings chose to stick it out.
They were also able to load empty gas cans on board and have them returned with fuel for the first few days of the storm. Williams says VITEMA is looking at finding a gas supplier who can station a refueling source in the Coral Bay area.
"To keep down the back and forth," she said, noting that St. John has three gas stations — two for motor vehicles — both located in Cruz Bay.
Williams says she also knows communication remains a problem in the eastern part of the island. Cell phone service has been non-existent since Sept. 6. Roads heading east of Coral Bay remain littered with fallen utility poles and cables.
"We're aware of the challenges Coral Bay has," she said. A Mobile Emergency Response Support team is expected to install a repeater in the area within a few days in hopes of restoring communication.
Public safety has also received support from emergency managers. Territorial Police Chief Winsbut McFarland traveled to St. John, along with a detachment of St. Croix police officers within days of Irma's passage to enforce a curfew and to investigate incidents of stolen ATM machines.
McFarland remained on island for a few days. Several patrol cars were spotted in the Coral Bay area in and around the time curfew was imposed at 6 p.m., daily. Since then, visiting New York State Police have been seen patrolling the area.
During one of the recovery briefings given by Gov. Kenneth Mapp and his cabinet, Police Commissioner Delroy Richards reported three ATMs had been taken in the Coral Bay area. Further details were not available from the police log maintained at Zone D Command in Cruz Bay.
There was, however, one entry made by the owner of Dolphin Market East at the Cocoloba commercial center on Rt. 107. Owner Neal Ahmad told police on Sept. 28 that his supermarket was burglarized Sept. 6, the day that Irma left its mark on the Virgin Islands.
And despite rumors to the contrary, there were no reports of Irma related looting. One complainant, several days after the storm, gave their name to police and said their business was robbed by looters. However, the name of the business and its location was not included in the blotter entry.
Police were able to recover a fire damaged device that appeared to be an ATM machine several days later. Authorities also responded to a report of a stolen firearm filed by a resident of the Calabash Boom Housing Community on Sept. 23, four days after the passage of Hurricane Maria. A police sergeant located the weapon and recovered it the same day the complaint was filed, according to government documents.
That leaves the remnants of the landslide on Centerline Road. Earth movers have chipped away at the debris and widened the passable roadway. Now, Williams said, the Army Corps of Engineers will have to step in to address the hillside house that lost its septic tank.
"What they want to do is meet with the property owners and the Army Corps of Engineers to see what they can do with the house," she said.