Gov. Kenneth Mapp's daily press briefings took a brutal turn over the weekend. Friday the news was all about the Hurricane Irma recovery effort. By Sunday, it was all about a potential hit from Hurricane Maria, which could be a category four storm when it hits the territory.
"We are no longer in recovery mode, we are in protection and sheltering mode," the governor said Sunday.
He had met with his cabinet earlier in the day, at which it was decided that recovery operations would "cease" and the focus would be on Hurricane Maria.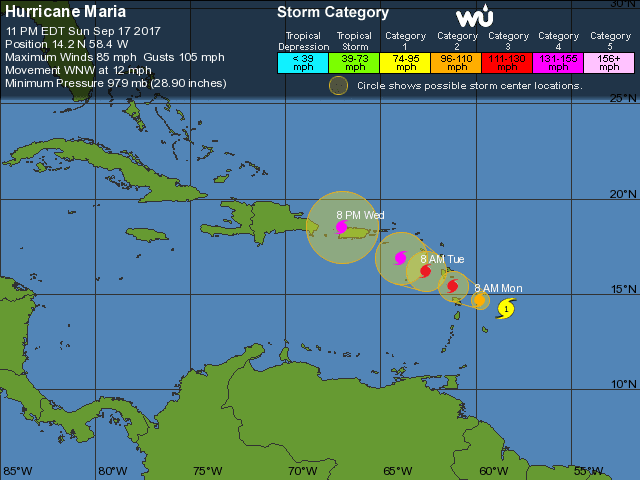 He had talked with a National Weather Service official less than a half hour before his Sunday evening briefing and was told that, as of 5 p.m., the U.S. Virgin Islands would be under a hurricane watch. At its 11 p.m. update, the National Hurricane Center forecast that when Maria arrives in the territory it be a category four storm, with winds between 130 and 156 mph.
Residents on St. Thomas and St. John should probably prepare for at least a category one, Mapp said.
Projections are for Maria to pass 15 miles south of St. Croix.
Mapp emphasized, "For a hurricane, 15 miles is no distance," and "any wobbling, could put it right over St. Croix or between St. Thomas and St. Croix."
Also of concern for Mapp was the prediction that Maria could dump 20 inches of rain on the islands as it passes the islands.
"My friends, that is a lot of water," he said.
Don Caetano, external affairs director of the Federal Emergency Management Agency (FEMA) Region II, in answer to a query from the Source about federal personnel leaving the islands before the storm, emailed, "More federal personnel and resources will be on the ground in the USVI ahead of Hurricane Maria than were pre-positioned ahead of Hurricane Irma." He added, "The decision to relocate some federal assets was not made lightly. FEMA made this decision in close coordination with the governor and VITEMA. They will return as expeditiously and safely as possible post-storm."
William Vogel, coordinator for FEMA Region 2, was at the press conference. He said the federal personnel flying out Monday would go to Georgia and as soon as things are clear they will return.
According to Vogel, FEMA personnel riding out the storm in the territory include 39 on St. Croix, 18 on St. Thomas and two on St. John.
Police Commissioner Delroy Richards, who also attended the briefing, said he had met with a contingent of peace officers from New York and, "They are very upbeat. They want to ride out the storm with us."
He said they asked to be assigned on St. John and were. He added, "We Will have at least 50 MPs (military police) on the ground on St. John and St. Thomas."
Mona Barnes, director of Virgin Island Territorial Emergency Management Agency, at the Sunday news briefing said that St. Croix residents could get sandbags at the Public Works office at Anna's Hope and in Frederiksted starting 8:30 a.m. Monday.
She also said that emergency food and water was being distributed at Bordeaux ball field, Dorothea Fire Station, Kirwan Terrace ball park, New Fire Station at Barbel Plaza, Tutu Fire Station, the Legislature building, and Ivanna Eudora Kean High School.
A mandatory evacuation order of the Tutu public housing high rise has been issued. The V. I. National Guard will assist with that evacuation, which begins at 6 a.m. Monday. Shelters for Maria on St. Thomas are at Lockhart Elementary School, Knud Hansen hospital and Bertha C Boschulte Elementary School. On St. Croix, the shelters are at D.C. Canegata Park, Herbert Grigg Home and the St. Croix Educational Complex. The St. John shelters are at Guy Benjamin Oliver School and Bethany Moravian Church.
Mapp, as he did Saturday, urged residents in damaged homes not to try "ride out the storm there." He said that tarpaulins were no protection in 10 mph winds, let alone in a storm this size. He said that for those who decided to ride out the storm in damaged buildings, they should use a brightly colored magic marker to put their social security number on their body so their next of kin could be quickly notified after the storm.
The residents of the mental health facility at Eldridge Schulterbrandt are being flown off the island Monday. There are a couple "mercy flights" leaving the island Monday, but they already have a waiting list of more than 100 people.
Mapp said Schneider Regional Medical Center will only have its emergency room operating. He explained that it will be used for holding the injured until there is a way to fly them off the island.
Mapp said he signed a request on Saturday to President Donald Trump for pre-disaster relief for approaching Maria.
At Mapp's Friday news briefing, when the topic was recovery from Irma, he said that Washington had approved a 90 percent, 10 percent federal/local share formula for the cost of work to make permanent repairs to public properties. He also said that New York Gov. Andrew Cuomo had committed 200 National Guard troops and 30 state troopers with a variety of vehicles to aid the territories recovery from Irma.
He also said he would lobby the U.S. Department of Housing and Urban Development to replace destroyed public housing communities with stronger homes.
A press release Saturday from Government House reported, "Given amounts being spent to replace poles and power lines after hurricanes, Gov. Mapp will lobby federal government for greater investment in underground distribution system."
Mapp said Sunday that the territory would probably be in the northern quadrant of the storm – "the most dangerous place."
Residents wishing to apply for individual assistance, can go to www.disasterassistance.gov or call 1-800-621-3362. Those who wish to donate to the recovery can visit www.usvirecovery.org.