Hurricane Maria is a category five storm, an "extremely dangerous major hurricane" that will begin affecting the U.S. and British Virgin Islands within the next 24 hours, according to the National Hurricane Center.
At its 11 p.m. Monday update, the NHC said the storm was about 270 miles southeast of St. Croix, packing 160 mile an hour winds and heading west northwest at about nine miles an hour, a course that will bring it into the territory Tuesday and directly over the islands by early Wednesday morning.
Hurricane warnings are in effect.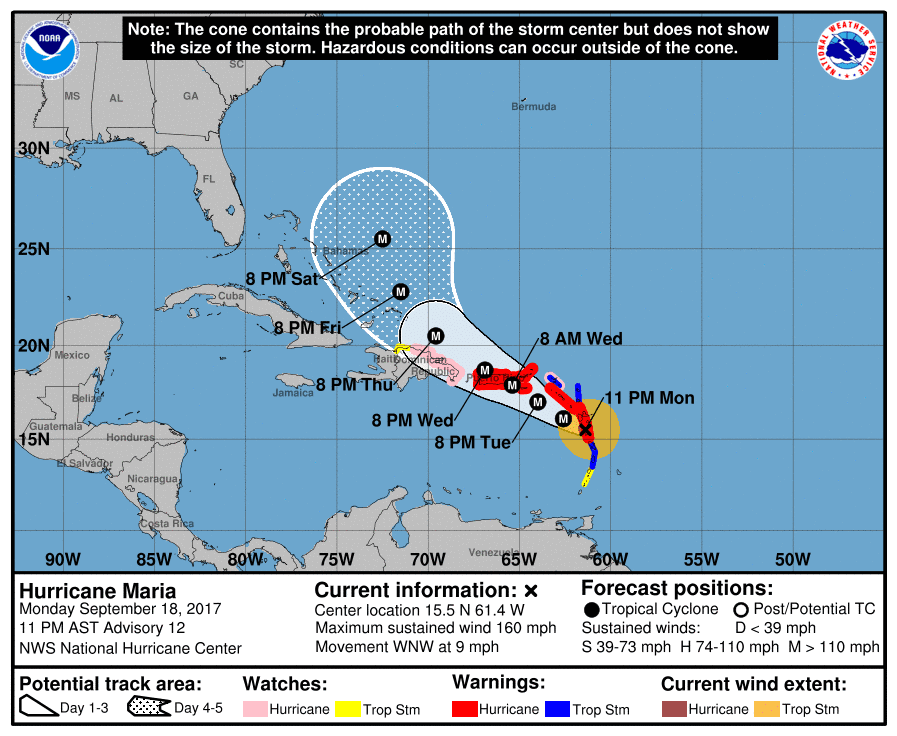 The potential for a life-threatening storm surge, accompanied by large and destructive waves, has increased, the NHC forecast said. Life-threatening flash floods and mudslides from heavy rainfall are expected across the Leeward Islands, including Puerto Rico and the U.S. and British Virgin Islands.
The Air Force Hurricane Hunters were able to fly a single pass from northwest to southeast through the eye of Maria just prior to 8 p.m. Monday. The crew found a peak surface wind of 160 miles an hour in the northwest eye wall, i.e. category 5 intensity. Some slight weakening may have occurred as the small core of the hurricane passed over Dominica. Since the center moved over land, the aircraft was not able to make a second pass through the eye.
Maria is forecast to remain within an environment of low wind shear and over warm water during the next couple of days. Given these atmospheric and oceanic conditions, meteorologists at the NHC expect Maria to remain a category four or five hurricane when it approaches the Virgin Islands and Puerto Rico.
On its current track, the center of Maria is forecast to pass near or over the Virgin Islands and Puerto Rico on Wednesday.