The weather disturbance bearing down on the Virgin Islands strengthened into Tropical Storm Maria Saturday afternoon and may be a category three hurricane by the time it reached the territory Wednesday.
According to the National Hurricane Center's 5 p.m. update, the center of Maria was about 620 miles east-southeast of the Lesser Antilles, about 895 miles east-southeast of the Virgin Islands.
Maria is moving towards the west at 20 miles per hour. A slower west-northwest motion is expected during the next couple of days. On the current track, Maria is expected to approach the Leeward Islands on Monday. Top winds have increased to near 50 miles per hour with higher gusts and additional intensification is expected during the next two days.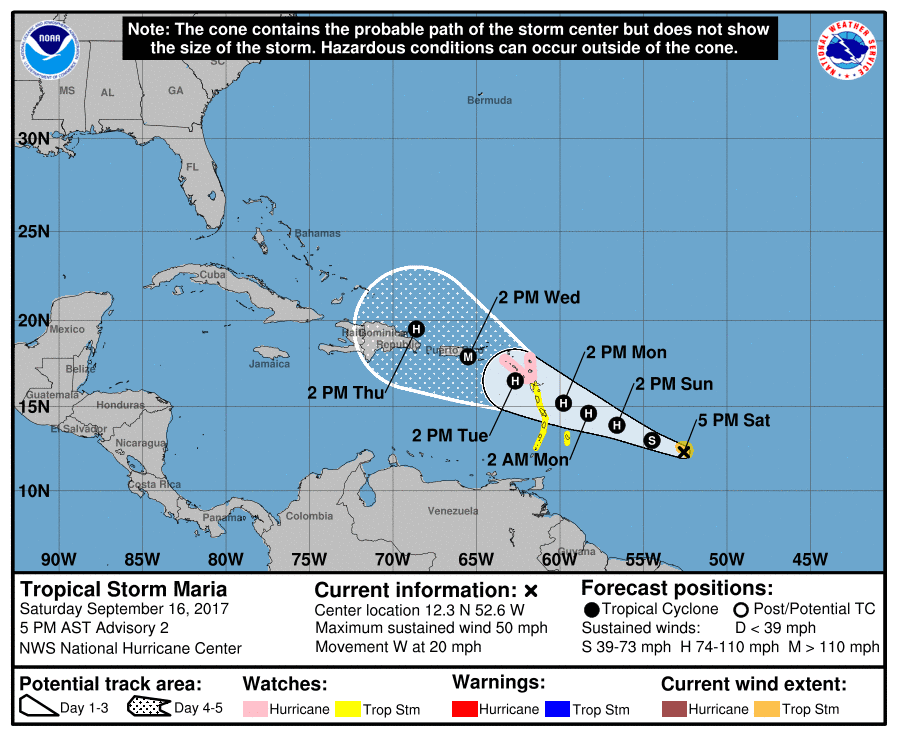 When Maria approaches the Leeward Islands, it is expected to be a hurricane. Tropical storm force winds extend outward up to 45 miles from the center.
Tropical Storm Maria could affect the U.S. and British Virgin Islands by mid week as a major hurricane and hurricane watches could be issued for the territories as early as Sunday.
Based on the 5 p.m. advisory, Tropical Storm Maria is forecast to come within ten miles of St. Croix at 9 a.m. on Wednesday. At the same time, the center of the storm system will be about 39 miles south-southwest of St. Thomas.
By Wednesday, Maria is forecast to be a Category Three hurricane, with top winds of 115 miles per hour. The NHC advices everyone in the Virgin Islands to closely monitor the progress of this developing storm system.