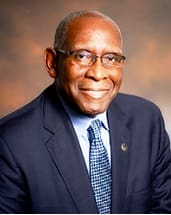 The University of the Virgin Islands is deeply saddened by the loss of life and property that the people of the Virgin Islands have endured because of Hurricane Irma. The University stands ready to assist in whatever manner it can as we mourn, rebuild and transform this territory. Many members of the University family lost their homes and precious aspects of their lives. We stand with them during this difficult time.
Fortunately, the Albert A. Sheen Campus on St. Croix was not seriously affected, and will commence operations on Monday, September 11th. Classes held on the Sheen Campus will commence their regular schedule on Tuesday, September 12th.
The St. Thomas campus was severely damaged by Irma and numerous buildings cannot be occupied now. The 150 students who stayed on campus during the hurricane are all safe, and were cared for and supported by numerous dedicated staff members.
Despite this enormous setback, the University is committed to resuming classes on St. Thomas in the near future. As soon as a full assessment is made of all facilities, including the technology infrastructure, a decision will be made and communicated regarding the resumption of classes on the St. Thomas Campus.
Circumstances permitting, all employees (consistent with the curfew hours) are asked to report to work on Wednesday, September 13th so the University can begin the rebuilding process. Please check into the Human Resources Office in the Administration and Conference Center Building before reporting to your work areas. We understand if employees have challenges that affect their ability to come to work on Wednesday. If you are unable to appear, please call 693-2241 to let us know your status or inbox us on UVI's official Facebook page – www.facebook/uvi_edu
In times like these the soul of individuals and institutions are tested. What I have observed of our students, staff and faculty as we endured this historic tragedy assures me that the soul of UVI is intact and it will pass this test of life.
Sincerely, David Hall, president of the University of the Virgin Islands