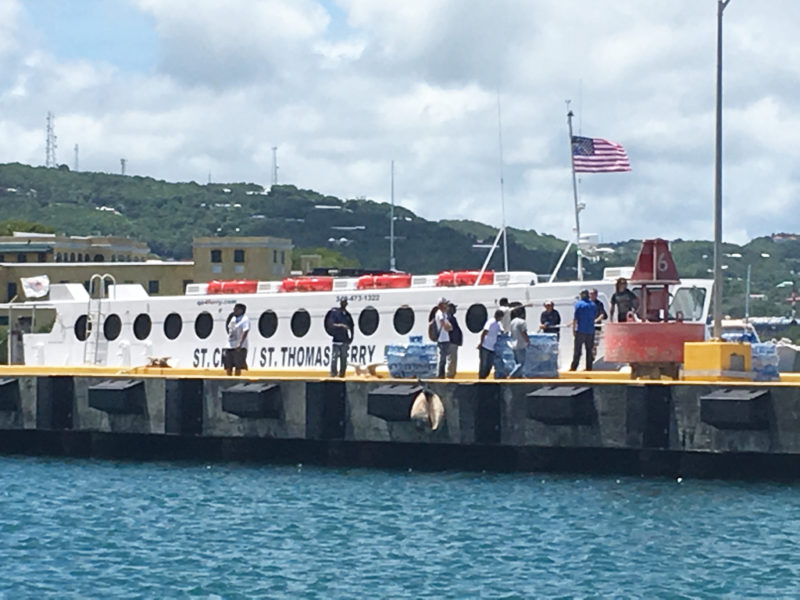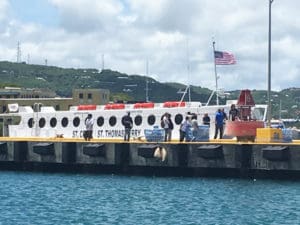 Major relief commodities and personnel have begun arriving steadily into St. Thomas, now that the airport and commercial marine port facilities have been cleared for use, according to the V.I. government's Emergency Operations Command.
But even as supplies arrive, there are unconfirmed reports that some parts of St. Thomas are still inaccessible due to debris in the roads. Ann Swafford Hite contacted the Source on behalf of Cassey Eaton of Fortuna, who got a short cell call out to her saying Fortuna, on the west end of the islands, is not seeing relief yet. They report that hundreds of people are stuck and supplies are not getting in.
A post on the "What's Going on St. Thomas" Facebook page Sunday evening said a friend of hers was sick and needed help, and elderly or sick Fortuna residents have no way to communicate or get out. The person did not give the name of the Fortuna resident. Another commenter said they lived on the west side and had to abandon their car and walk out. Calls to multiple St. Thomas residents to try to get more details and confirm conditions only found that no one seemed to have any information.
Supplies are coming in to parts of St. Thomas, however.
Food, water and roof tarps are being handed between noon and 6 p.m. These supplies are being distributed at Kirwan Terrace Ballpark, the new Fire Station on Lover's Lane and at the Tutu Fire Station. Commodities are being delivered by air and cargo vessel to St. John.
Mapp was on St. John Sunday with FEMA officials making an assessment of damage to that island. St. John, which suffered significant impact from Hurricane Irma, began receiving emergency supplies by air and sea Saturday.
At a late morning briefing, Gov. Kenneth Mapp said more roof tarps would be delivered to St. John Sunday and that Monday tarps would be delivered to Water Island where most of the roughly 200 homes suffered damage.
The Navy has sent three ships with 20 helicopters and 700 personnel. Military assets are being used to transport supplies, equipment and search and rescue personnel. Mapp said food, water, temporary shelter and the restoration of electricity are the first priorities.
The Cyril E. King Airport on St. Thomas is only open for relief efforts.
The St. Croix-St. Thomas ferry has carried supplies and personnel to St.Thomas and has carried some tourists and others to St. Croix, where the tourists can go to the Henry E. Rohlsen Airport to fly out and for others to get temporary housing through FEMA.
But the company confirmed Sunday that the Federal Emergency Management Agency is controlling the ship's schedule and there are no regular passenger trips at present.
The V.I. Water & Power Authority continues to be hampered by traffic in violation of the curfew – which remains in place from 6 p.m. until noon. The governor warned residents that arrests will be made if necessary. St. John and Water Island have been without any electrical service for more than five days, and St. Thomas service is only slowly being restored.
The Department of Health has put out a call for pharmacies which are able to open to do so from noon until 5 p.m. so people can fill essential prescriptions.
Mapp acknowledged people are getting frustrated by the long process of recovery and assured Virgin Islanders resources are coming in. He said that even with citizens in Puerto Rico, Texas and Florida experiencing similar circumstances, that the federal government has given every assurance that the U.S. Virgin Islands remains a priority.
Mapp asked all Virgin Islanders to remain vigilant in the recovery effort, particularly cabinet members and other government officials.
FEMA gave out information Sunday on the amount of FEMA commodities in place for distribution. The numbers suggest the flow has been slowed by conditions on St. Thomas because the amounts on St. Thomas are much smaller than St. Croix.
As of Sept. 10, the following commodities are reported to be at incident-support bases or distribution centers:
– St. Thomas: More than 1,700 meals and 1,800 liters of water,
– St. Croix: More than 96,000 meals and 48,000 liters of water,
– St. John: More than 570 meals and 900 liters of water,
– San Juan, Puerto Rico: More than 290,000 meals and 600,000. liters of water.
Several FEMA task forces are on the ground, including an urban search and rescue support team.
FEMA is urging survivors to register with FEMA to receive federal disaster assistance.
Virgin Islanders can register online at DisasterAssistance.gov, download the FEMA app, or call 800-621-3362 for voice, 711, or Video Relay Service.
Survivors who are deaf, hard of hearing or who have difficulty speaking and use a TTY, can call 800-462-7585 directly. The same number can be used for 711, VRS and other relay services.
FEMA Individual Assistance is designed to help survivors get back on their feet and covers essential needs not covered by insurance. Two islands are designated for Individual Assistance – St. John and St. Thomas.