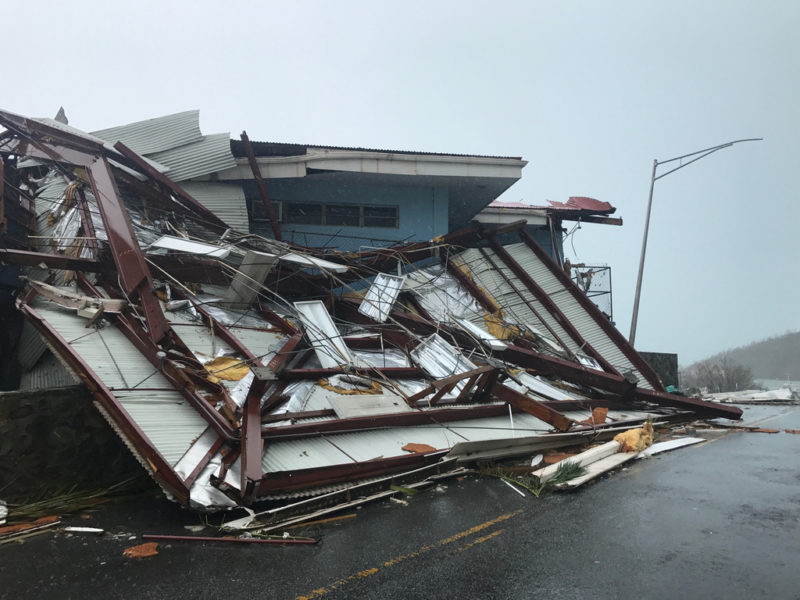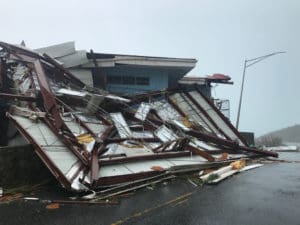 Things are looking up on St. John, but volunteers and officials alike are mindful that there's a long way to go before the storm-battered island will return to anything like "normal."
"One thing we need to stress to the St. John community is that we're only a short way into this. And we're a long way before we can be completely functional," said Siobhan Mulcey, one of a group called Love City Strong that has jumped in to help coordinate relief efforts. "Our limited resources are precious and they should be rationed properly."
Love City Strong is mostly younger people – Mulcey is 26 – who work in the restaurants and taverns and shops of St. John, who have pitched in the emergency. The group has helped coordinate getting 160 people office the island, and has helped unload and safely store much of the relief supplies coming in.
Irvin Mason, who works at VITEMA's Emergency Operations Center on St. John, praised the group for its effort.
"What I like about St. John is we get people volunteering," he said. "There are no words to describe what they're doing. It's remarkable."
Mulcey said the people she works with are mostly in the 25 to 36-year-old range, with island roots.
"Most of us work in the restaurant industry and we're used to working 50 to 70 hours a week," Mulcey said. "We joke about St. John being a sort of Never Never Land, but now we're jumping into positions of responsibility."
The Emergency Operation Center, located at the Public Works building on Gifft Hill Road, took a beating during the storm, Mason said. They lost communication at 2 p.m. Wednesday – the height of the storm. The personnel went downstairs to the lower floor where two of them had to hold the door closed with an electric cable, fighting against the force of the wind.
Irma, with winds of 185 miles an hour, was a category five storm when it barreled over the territory, but that was only because the scale has no higher designation. It was among the most powerful storms ever to come out of the Atlantic basin.
"If we had a category six or seven, that would be what this storm was," Mason said. "It's amazing no one on St. John lost their lives. It was the work of God."
Love City Strong is holding a meeting at Mongoose Junction at 10 a.m. Monday to organize squads of volunteers to clear debris and cit obstacles. They're asking people to bring their own gloves. Another group will be unloading supplies and getting them to secure locations.
Despite Mason's optimistic report, the scope of injury and possibility of fatalities is not yet known. A FEMA multi-agency team from Virginia Beach, Virginia, called appropriately Virginia Task Force No. 2, has begun a house to house search, finding out who is holed up, who is missing and where.
A list is being kept at the National Park Visitors Center and people are being asked to check the list there and check off names as people are found.
V.I. National Park
V.I. National Park Superintendent Jayne Schaeffer said the park has established a satellite connection to the internet so communication is becoming much clearer.
The North Shore Road is now open as far as Cinnamon Bay, where they have found the campground a mess. The Park Service is trying to get a couple of them habitable for rangers who are coming in to help out.
At Trunk Bay, huge trees are stacked up and several park houses have sustained damage including some old traditional houses – Trunk Bay House and Island Fancy, which was immortalized in the book "Grandma Raised the Roof" by Ethel McCully.
Looters
The National Park's rangers have been authorized to extend their jurisdiction to the entire island, as opposed to just the park, so they can assist with law enforcement. That's needed, because there are still those trying to take advantage of the situation.
Amier Salem, whose family owns the Bayside Mini-Market in Cruz Bay, has been living in the store as he tries to get home to St. Thomas. He said Wednesday during the storm people wearing masks were out robbing local businesses. They came to his store, he said, and he shined his light on them and yelled "Don't try it."
"They knew who I was and they went away," he said.
He was luckier than Josephine Jansen, who four months ago opened a bar call Slim Man Snack Dragon in Coral Bay. She had been blockaded in her home by debris and wasn't able to get out until Saturday. When she finally got to her business she found that people had broken in looted it of the beer, liquor and other goods.
Communication and supplies
Incident commander John Bergeron said the V.I. Government is working to get ferry service running to the island.
They also are trying to put up temporary power on Bordeaux Mountain for cell phone communication. And an unofficial team of computer guys from St. John are working to get a Wi-Fi hot spot set up.
In Cruz Bay, locals have discovered they can get cell service – sometimes spotty and static laden, but still cell service – at the balcony of the Boulon Center. For the past two days as many as 200 people have congregated there trying to get word out to friends and family about conditions on the island, along with the simple message that they are alive.
But the first priorities, Bergeron said, are fuel food and water. St. John is running low on diesel fuel to power generators, so they're trying to get one of the oil barges to bring back diesel fuel.
FEMA gave out food and household supplies, food, paper towels, toilet paper and water at the ballpark at Julius Sprauve School. They have said they will be there every day at noon.
Odds and Ends
East Island Excursion of Puerto Rico has sent three boatloads of supplies from Puerto Rico to St. John, all donated by civilians. On the return trips the boats have taken people back to Puerto Rico, where they can get flights out.
Karmen Lewis, from Detroit Lake, Minnesota, said she has been visiting St. John for 22 years she from Detroit Lake Minn. She was house sitting on the island when the storm hit, and the house was badly damaged. But she has worked since the storm, volunteering helping others clean up their houses.
"As long as everyone's safe, that's all I care about it," she said.
Ryan Sharkey, a St. Johnian for five and a half years who runs an eatery called 420 to Center, has had his business designated as a disaster center.
He woke up the morning after the storm and was walking around when he saw some others. They went back to his establishment and he started cooking stuff from the freezer. People started coming over. Then some ladies from the Red Cross came and told him, "We're designating you as a Red Cross center."
"We don't have a T-shirt or hat yet," Sharkey said, but he started feeding police and emergency rescue personnel. People have dropped off food donations, including some restaurants that haven't been able to reopen.
He has served about 1,000 meals since Thursday.
At the Sprauve School shelter, people are still sleeping on tables and on the floor due to a shortage of cots. Eighty people there Saturday night, and school cook Deverell Alfred, has served 300 meals.
St. John's ice house was damaged during the storm but has begun producing water again and hopes to be producing ice soon.
Wind damage in the Grumswald area including heavily damaging a catering business, and flipping several vehicles on their roofs. The Chateau Bordeaux also was damaged.
Source reporter Judi Shimel contributed to this report.