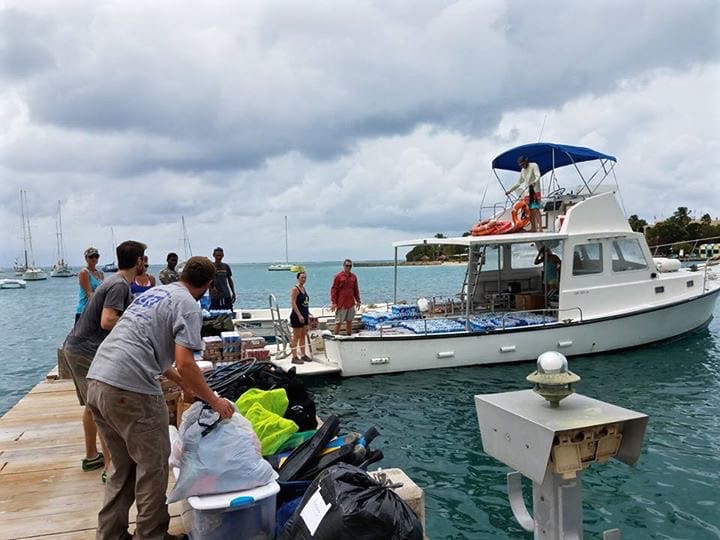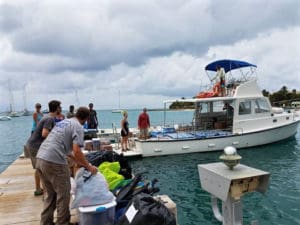 Many St. Croix residents woke up Friday grateful for having been spared the wrath of a category 5 hurricane and eager to help their sister islanders as much as they could.
As a few days have passed since Hurricane Irma struck the region, all focus has turned to helping St. Thomas, St. John and the BVIs, all of which have sustained catastrophic damage. Funds are being set up and supplies are starting to get delivered to those most in need.
Michael Armendariz, who has lived on St. Croix for 22 years, stayed with friends in Christiansted town during Hurricane Irma because they had a more secure building and a generator. His friends had gone through Hurricane Hugo in 1989, and Armendariz has been here since Hurricane Marilyn in 1995, so they felt prepared but were still nervous and watched their computer screens nervously to catch every slight movement that Irma made. Amendariz said he feels "incredibly fortunate and lucky we were spared the brunt of the storm, but feeling a sadness for our friends in STT, STJ, BVI and other islands. We have all been through it so we know what it is like. It is heartbreaking. But feeling very, very thankful."
Upon receiving a text from a friend who was loading his boat to deliver supplies to St. Thomas on Thursday, Amendariz started gathering all the hurricane supplies he had purchased but had not used, such as food, tarps, lanterns, water and plastic trash bags. He headed out to the boat and met other Crucians who were already unloading trucks and cars on the dock.
Kiki Mason, who moved to St. Croix in 2009 and lived on the island almost eight years, performing with Kiki and the Flaming Gypsies, recently moved to Tortola in the British Virgin Islands, doing fire shows with Purafire troupe. She came back to St. Croix to ride out the storm and now has many friends who are unaccounted for back in the BVIs.
"It's their Hugo," she said. "People are desperate and the entire BVI is devastated."
She has no home to go back to, but is working with a team of people that are getting supplies to the BVIs via boats from St. Croix. Mason said the aid from the United Kingdom is going to take two weeks to get there so immediate help is crucial.
According to Mason, anyone who wants to help the BVIs can go to Three Sheets Sailing on Facebook or send supplies to:Jennifer and Mike Simpson
PO Box 24007
Christiansted, VI 00824-0007
Or
24007 Gallows Bay Station, if items cannot be shipped to a post office box.
Tamara Psurny, who has lived on St. Croix for three years and been in the Caribbean for 20, living on Saba and St. John, said that during the storm she "felt more reassured as the storm was hitting than I did the days prior." However, while she is relieved that St. Croix was spared, her attention now turns to the other islands.
"I'm still upset about it, all the suffering on the other islands, my poor friends on the other islands," she said. "I still haven't heard from some of them. My parents are going to get hit by Irma in Orlando. I'm worried."
The sentiment remains the same throughout the island of St. Croix. A mere 40 miles from St. Thomas meant a huge difference when it came to avoiding catastrophic damage on the "big island' of St. Croix in the U.S. Virgin Islands. Everyone realizes how lucky they are here and they have wasted no time turning their attention and resources to those who are now in desperate need of help.
Meanwhile, the St. Croix-St. Thomas ferry, operated by Warren Mosler, should be up and running again by Saturday morning, now that the Coast Guard has cleared the ports.
"Here is the plan for the time being: FEMA directed us to work with Chief Stevens. Ferry leaves gallows bay port at 8am. He is sending up to 10 emergency personnel over. The most urgent need is in water and food in St. John. VITEMA is providing the 4,000 lbs. of food and water. We have a remaining 5,000 lbs of capacity that we can load on the ferry.  FEMA is determining whether any passengers will be coming back to St. Croix from St. John," Mosler said in an email.