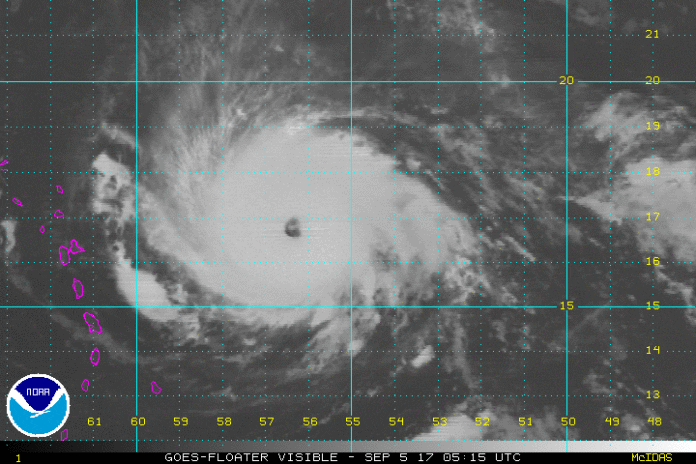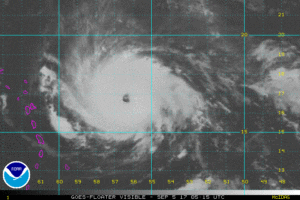 A hurricane warning was issued for the U.S. Virgin Islands Monday night as the storm approached the territory.
Residents, businesses and government agencies spent the Labor Day weekend working to batten down for the category 4 hurricane Irma, which at 11 p.m. Monday was about 630 miles east of St. Thomas, according to the National Hurricane Center.
In its 11 p.m. Monday update, the NHC said Irma will be "a dangerous, major hurricane, accompanied by life-threatening wind, storm surge, and rainfall impacts."
A hurricane warning means that hurricane conditions are expected somewhere within the warning area. within the next 36 hours, which would put Irma's arrival in local waters Wednesday morning.
"Preparations should be rushed to completion, as tropical-storm force winds are expected to first arrive in the hurricane warning area by late Tuesday," the NHC said.
WAPA Preps for Storm
The V.I. Water and Power Authority said Monday it will strive to maintain electrical and water services throughout Hurricane Irma. However, for emergencies, residents on St. Thomas-St. John can call 340-774-1424 and on St. Croix, 340-773-0150. WAPA's emergency call centers will be activated to accommodate increased service calls.
WAPA said it will regularly update the public about the utility's status throughout the storm. The most widely used messaging tools WAPA will employ are: local media outlets, primarily radio stations, as well as V.I. Alert, WAPA web site, WAPA Message Six telephone system, and Facebook.
"We have completed two days of meetings with directors and key emergency response personnel to ensure the Authority is in a state of readiness for the anticipated impact from Hurricane Irma," Executive Director Julio A. Rhymer said.
"WAPA has adequate fuel and water storage and power plant personnel are securing generating equipment, water plants, fuel dock facilities, buildings and all other areas to minimize possible damage. Crews have been assembled and are prepared to begin addressing any storm-related problems once the storm has passed and it is safe to do so. The safety of the men and women of WAPA and the protection of our power generating plants are our top priorities," Rhymer said.
WAPA also announced that its self-service payment kiosks at Petrus Plaza on St. Thomas will close to the public at noon Tuesday.
"The midday closure will allow personnel to shut down the kiosks and secure the facilities in anticipation of the storm," Rhymer said, The payment kiosks at the customer services offices in Four Winds Plaza on St. Thomas and at Sunny Isle on St. Croix will remain available to the public until those offices close for the day at 4 p.m..
Rhymer also said the St. John customer service office will be closed Tuesday to allow it to be secured, given the anticipation that the island will experience the greater effect of the hurricane beginning Wednesday morning. Those wishing to make payment on electrical or water accounts can continue to do so online at www.viwapa.vi, or by depositing payments at drop boxes at WAPA's customer service locations in both districts.
VITEMA
The V.I. Territorial Emergency Management Agency warned of the following dangers from the arrival of Hurricane Irma.
WIND: Protect against life-threatening wind having possible devastating impacts. Potential impacts in this area include:
– Structural damage to sturdy buildings, some with complete roof and wall failures; Locations may be uninhabitable for weeks or months.
– Complete destruction of mobile homes.
– Damage greatly accentuated by large airborne projectiles.
– Numerous large trees snapped or uprooted along with fences and roadway signs blown over.
– Many roads impassable from large debris, and more within urban or heavily wooded places. Many bridges, causeways, and access routes impassable.
– Widespread power and communications outages.
FLOODING, RAIN: Protect against life-threatening rainfall flooding having possible extensive impacts. Potential impacts include:
– Major rainfall flooding may prompt many evacuations and rescues.
– Rivers and tributaries may rapidly overflow their banks in multiple places. Small streams, creeks, canals, arroyos, and ditches may become dangerous rivers. In mountain areas, destructive runoff may run quickly down valleys while increasing susceptibility to rockslides and mudslides. Flood control systems and barriers may become stressed.
– Flood waters can enter many structures within multiple communities, some structures becoming uninhabitable or washed away. Many places where flood waters may cover escape routes.
– Streets and parking lots become rivers of moving water with underpasses submerged. Driving conditions become dangerous.
– Many road and bridge closures with some weakened or washed out.
SURGE: Protect against life-threatening surge having possible significant impacts. Potential impacts in this area include:
– Areas of inundation with storm surge flooding accentuated by waves.
– Damage to several buildings, mainly near the coast.
– Sections of near-shore escape routes and secondary roads become weakened or washed out, especially in usually vulnerable low spots.
– Major beach erosion with heavy surf breaching dunes. Strong and numerous rip currents.
– Moderate damage to marinas, docks, boardwalks, and piers.
– Small craft broken away from moorings, especially in unprotected anchorages.
EVACUATIONS: For those under evacuation orders, leave as soon as practical with a destination in mind. Gas up your vehicle well ahead of time. Be sure that you take all essential materials from your emergency supplies kit. Let others know where you are going and when you intend to arrive. For those not under evacuation orders, understand that there are inherent risks to evacuation (such as traffic congestion, accidents,and driving in bad weather,) so evacuate only if necessary. Help keep roadways open for those that are under evacuation orders.
If you are exceptionally vulnerable to wind or water hazards from tropical systems, consider voluntary evacuation, especially if being officially recommended. Relocate to a predetermined shelter or safe destination.
Department of Health
The USVI Department of Health has been working closely with VITEMA, healthcare facilities and other agencies in preparation for Hurricane Irma, the agency announced Monday.
"The Department of Health's first priority is the health and safety of all in the USVI," Health Commissioner Michelle Davis said. "In order to maintain quality care and quick response during and after the hurricane, the Department of Health has arranged for the placement of ambulances at various sites across the territory."
DOH has special-need shelters at the Charles Harwood Complex on St. Croix and the Community Health Clinic at the Schneider Regional Medical Center. on St. Thomas.
"All generators are fully fueled to continue operations and maintain the refrigeration of immunizations and medications; and the Emergency Operations Center is ready for activation once the need has been identified<' Davids said.
Juan F. Luis Hospital
The Juan F Luis Memorial Hospital advised the St. Croix community Monday that the hospital "stands ready to meet the needs of those needing emergency care. JFL is also continuing to ensure the safety of its patients, visitors and staff."
In a release issued Monday night, the hospital said acting CEO Richard Evangelista has been working closely with Gov. Kenneth E. Mapp and VITEMA to track Hurricane Irma, and ensure the hospital's readiness before, during and after the storm.
"We stand ready to assist the public with their clinical emergency needs," Evangelista said. "At the same time, we ask that members of the community stay out of harm's way if you're not facing a medical emergency."
The hospital's release also reminded people of preparations to make before the storm to assist with your medical needs:
– Refill any prescriptions you might need before the storm arrives. JFL is not a retail pharmacy and is only obligated to dispense medications to its patients.
– Stock up on disposable medical supplies such as bandages, oxygen, etc.
– "If you have a neighbor in need, please see how you can assist them to get their medical supply," the release said.