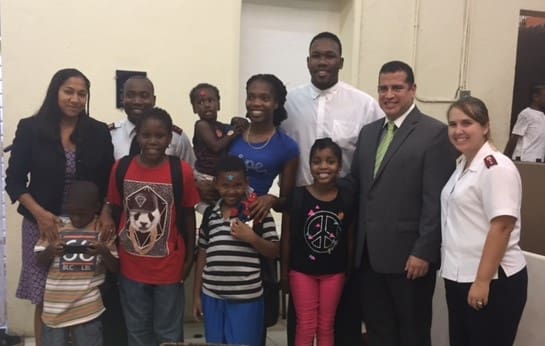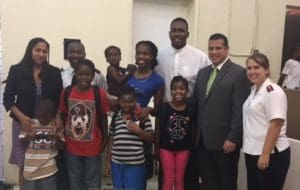 FirstBank recently partnered with Salvation Army offices on St. Thomas and St. Croix to sponsor back-to-school supply drives on both islands.
Every year, there are students in the community who go back to school without basic supplies. The back-to-school drive was designed to help those parents in the community who may be economically challenged and not have the ability to provide their child with the essentials necessary to prepare them for academic success.
With financial support from FirstBank, the Salvation Army equipped 400 students with backpacks filled with pencils, pencil cases, composition notebooks, erasers, rulers, scissors and other essentials. Backpacks were distributed on Thursday, Aug. 24, and Friday, Aug. 25, at the St. Thomas and St. Croix Salvation Army offices, respectively. The bank's employees also assisted with the packing of backpacks for distribution.
Adding to the excitement of the St. Thomas distribution was the appearance of Clayton Laurent Jr, 2016 Olympian and professional boxer, who, when asked, jumped at the chance to be part of the giveaway. Passionate about local youth, Laurent had previously tried to organize similar events and was excited to partner with Firstbank to reach a wider audience.
At Thursday's event, the room was filled with many smiles as the students received their backpacks and hugs from the Olympian. Laurent also autographed the notebooks of the students.
FirstBank is a proud supporter of The Salvation Army and believes that society requires of everyone's efforts to succeed. Their philanthropic efforts are channeled to where they are needed most at the local level where the company operates.