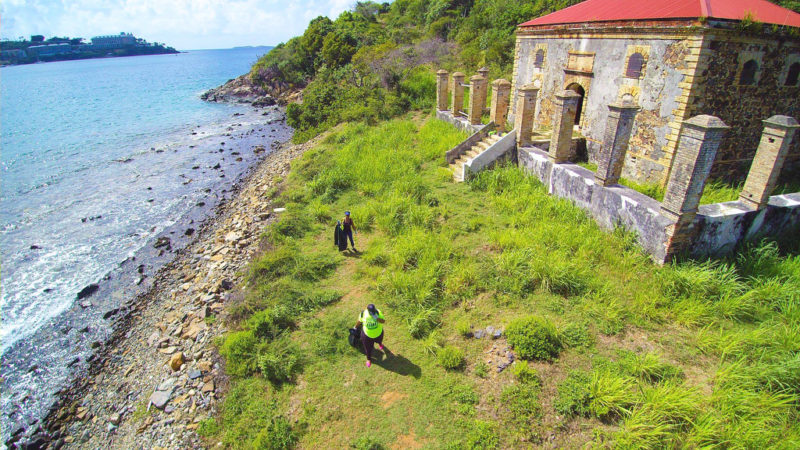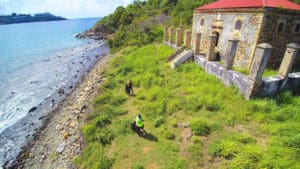 About 180 volunteers on St. Thomas came out Saturday morning and helped clean up Hassel Island, thanks to organizers Kai Frett and Lu Henley, some help from a bunch of organizations and support from the law firm of Dudley Rich, Davis.
The volunteers filled 71 contractor bags with more than 1,611 pounds of trash.
Those who came out also took an historical walk, learning about the history of the island.
"Due to the local dumpsites being closed in the near future, we hoped this event would also provide awareness to people of all ages on how to preserve our paradise by: 1) actively keeping it clean; 2) moving away from the use of single plastics; and 3) being environmentally conscious on a daily basis," Frett said in an email to the Source.
Free shuttle service was provided by Public Works from Fort Christian Parking lot to Hook Line and Sinker Restaurant in Frenchtown, for the ride over to Hassel Islands. The first 50 volunteers received free day-passes to Coral World Park.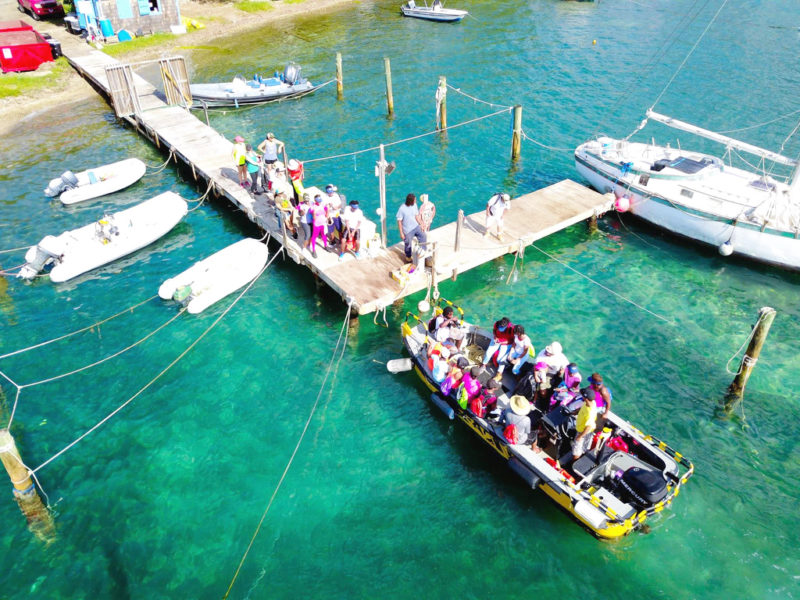 "We initially anticipated 100 attendees but at least 180 volunteers were present," Frett said. "Once all volunteers signed their waiver form, attendance sheet, and received their supply pack, they were shuttled over to Hassel Island at no expense, courtesy of Sea Tow boat company."
Volunteers got supply packs that included eco-friendly bags, eco-friendly water bottles, hand towels, insect repellent and other items provided by various public and private organizations, including the Waste Management Authority, V.I. Hotel and Tourism Association, and the Department of Health.
V.I. EcoTours lent some volunteers kayaks and provided guides for easy accessibility of the island. Ice and water was provided by Wala Ice Factory and Crown Mountain Water.
"One of the main focus areas, Careening Cove, is where the majority of sargassum seaweed mixed with debris was picked up," Frett said. "There were also tons of broken glass bottle, plastic straws, food wrappers, cigarette butts, and styrofoam food containers that were collected and and documented on the volunteer Ocean Conservancy data sheet that is used to help analyze date to reduce trash impact around the world."
John Sparrow, the Jack Sparrow impersonator from the Pirates Treasure Museum, came out to help too.
Once the cleanup was completed, all volunteers received two-for-one drink tickets from Tap & Still Havensight to use between the hours of 6 and 8 p.m. – right before the televised Floyd Mayweather vs. Conor McGregor fight. They also got one free coconut, for some refreshing coconut water after their hard work.