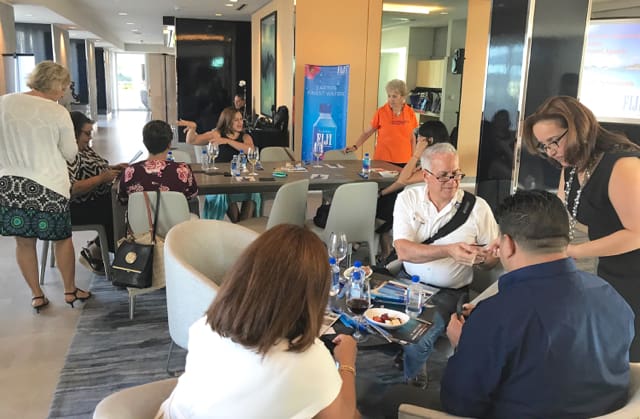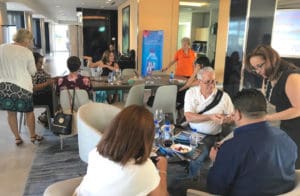 The St. Croix Hotel and Tourism Association partnered with Cape Air to host a travel agent reception for Puerto Rico travel agents and press recently in Condado, Puerto Rico, attracting more than a dozen attendees from tourism and media sectors, including two of the largest wholesalers on Puerto Rico.
The Aug. 10 reception at the AC Hotel by Marriott San Juan Condado allowed St. Croix Hotel and Tourism Association members an opportunity to highlight their businesses. St. Croix hotels and allied members participated, showcasing a variety of accommodations, activities, attractions and services offered on St. Croix.
In a statement, St. Croix Hotel and Tourism Association President Suzanne Rosbach said the group was pleased to "have the opportunity to showcase what St. Croix has to offer as a destination" and that they hoped the increased exposure in the marketplace would drive more visitors to St. Croix.
St. Croix Hotel and Tourism Association board member Katya Ruiz said she saw the reception as an opportunity to continue expanding into the Puerto Rico market. She commented on the level of interest from press attendees and discussed building on that in the future by organizing more opportunities for press visits to St. Croix.
Landmark Vineyards, Fiji Water and the USVI Department of Tourism also sponsored the get together. Ted Bedwell with Sand Castle on the Beach, Katya Ruiz with Cape Air, Suzanne Rosbach with Cane Bay Dive Shop, Jennifer Caruso with Caravelle Hotel and Casino and Zulma Diaz with Renaissance St. Croix Carambola Beach Resort and Spa were all there. Association members and Tamarind Reef Resort, Holger Danske Hotel and Club Comanche Hotel all donated prizes for a raffle at the gathering.