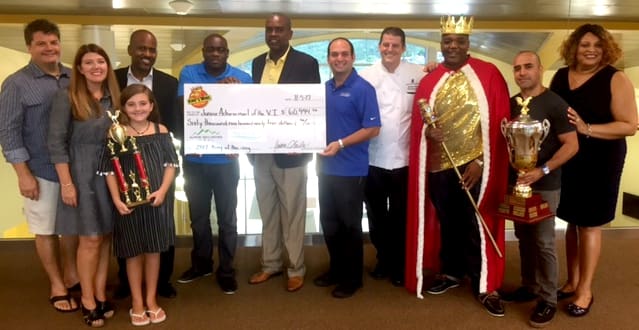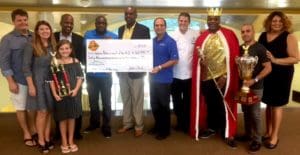 The check presentation ceremony for the eighth annual King of the Wing Contest (KOW) was held at 9:30 a.m., Wednesday, Aug. 9, at the Charles W. Turnbull Regional Library on St. Thomas. Alpine Securities, USVI and White Bay Group, organizers of the competition, revealed the donation amount from this year's event. which was held on June 10.
Sponsored by Corona and Captain Morgan, distributed by Bellows International and produced by Alpine Securities and White Bay Group, King of the Wing entered its 8th year with all proceeds benefiting Junior Achievement of the Virgin Islands.
Nearly 40 teams consisting of the top local restaurants, businesses, organizations and chicken wing connoisseurs set up their grills and cooking stations starting at noon and wrapping up at 6 p.m. They cooked up mouthwatering chicken wings, wowed the 5,000-plus attendees, and competed to claim bragging rights for the best tasting wings on the island.
Corona and Captain Morgan provided beverages and support while St. Thomas' own R. City delighted the crowd with an energy packed performance. Internationally known DJ JSmoke and DJ Dhundee kept the energy and appetites up with their signature blend of party jams and well-known hits. The celebrity judges, R. City and Sports Illustrated Super Model Hannah Ferguson, worked together with the rest of the judging panel to choose the winners of the King of the Wing.
In addition to being the island's most celebrated and anticipated family-friendly culinary and community event, King of the Wing serves as a crucial fundraising platform for select local charities.
To get more information, contact Jason Charles or Catherine Bryan at 714-2020. e-mail jason.charles@alpineusvi.com or catherine.bryan@alpineusvi.com For more information: www.facebook.com/alpinekow.