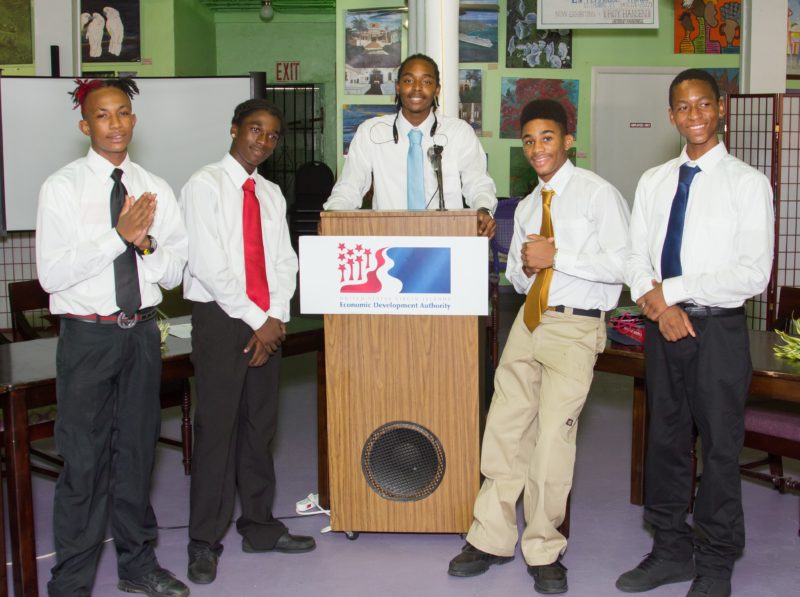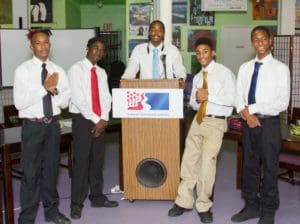 The U.S. Virgin Islands Economic Development Authority (USVIEDA) has announced that five students graduated this week from a six-week summer program designed to encourage the territory's youth to think about becoming entrepreneurs as they prepare for their personal and professional lives after high school. The five young men are Kevon Barclette, Jevon Thomas, Claudius Abraham Jr., Shirmoy O'Garro and Kyri Hughes. These 2017 graduates of EntrepreNow, are also known as the Gentlemen of EntrepreNow.
The graduation ceremony for this summer program, EntrepreNow, was on Friday, Aug. 4, at E's Garden Teahouse and Things on St. Thomas.
EntrepreNow, the brainchild of the Enterprise Zone Commission (EZC), was designed this year to assist the territory's young men, ages 14-19 years-old, in learning how to set personal and career goals, build self-confidence, resolve conflict, prepare a resume` and conduct a job search, create and implement a business plan, and other life skills. The program is also being held this year on St. Croix from July 17 to Aug. 25.
Established in July 2016, EntrepreNow is being held for a second year in partnership with the Office of the Territorial Public Defender of the U.S. Virgin Islands and the local non-profit organization Youth Arise Inc.
The EZC is an entity of the USVIEDA that is responsible for the revitalization of distressed neighborhoods that were once vibrant centers of economic activity in the territory.
Selected through the U.S. Virgin Islands Department of Human Services and the Office of the Territorial Public Defender of the U.S. Virgin Islands, the students of EntrepreNow participated in a variety of sessions for their chosen career tracks during this summer program. These career tracks included, but were not limited to, game testing, civil engineering, carpentry, K-9 law enforcement and diesel mechanic jobs. The students also participated in shadowing local entrepreneurs.
To learn more, contact Nadine Marchena Kean, director of EZC, at 714-1700, ext. 256.