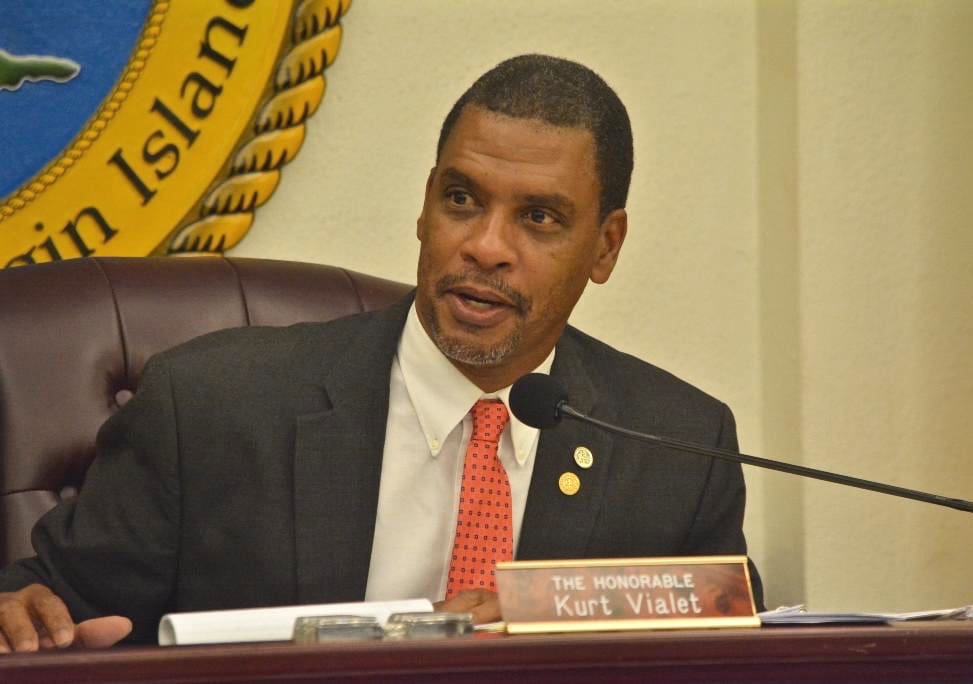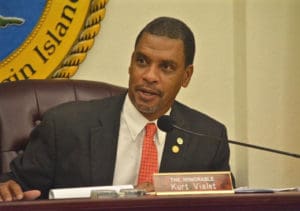 Four bills affecting V.I. Government retirees appeared on the agenda of the 32nd Legislature's Committee on Finance Friday, but only one was moved forward by the committee with favorable recommendation.
Bill No. 32-0102, sponsored by Sen. Sammuel Sanes, cleared the committee with the unanimous vote of the six members present, and will be considered next by the Committee on Rules and Judiciary.
The bill seeks to repeal provisions that allow some retirees to return to government work without making new contributions to GERS. Those provisions, which apply to several professions, allow some individuals to collect a government paycheck in addition to their existing annuities, and without further contributions to the pension system.
The provisions were designed to incentivize seasoned government employees to return to vital positions – police officers, teachers, nurses and 12 other categories — for which there are sometimes a shortage of qualified applicants.
GERS Administrator Austin Nibbs said Friday that the territory's declining pension system can no longer bear these sorts of exemptions for retirees returning to work. Most estimates project GER's insolvency to arrive in less than a decade.
"The most important things is contributions. Contributions are what drives this system," Nibbs said.
He added that in order to be sustainable, GERS would need a four to one ratio of active contributors to retirees. The ratio is currently around one to one, with an annual deficit of $150 million between contributions and benefits and other expenses.
Milton Potter, the director of the Division of Personnel, said he was in support of the bill with some adjustments, to include giving his office some leeway in monitoring how qualified retirees are rehired.
Potter said he had spoken to both Education Commissioner Sharon McCollum and Police Commissioner Delroy Richards and they told him that they do believe the current provisions help them staff positions in their departments that are "hard to fill."
In the case of the DOE, substitute teacher pools are primarily filled with retirees responding to the incentive of dual compensation, Potter said. The VIPD sometimes tries to attract retired officers to serve as cold case agents and police aides, filling critical personnel gaps, he added.
Potter said he wasn't sure how many retirees are currently affected by the provisions being considered for repeal, but that it was "definitely less than 100." Approximately three quarters of those individuals are employees of the Department of Education according to his estimates.
"It is really the DOE that has the bulk of people coming back in these substitute teacher roles. We don't have an avalanche of people who've retired and are coming back to work. That's not something I see happening here," he said.
Some senators expressed skepticism, and in some cases outrage, that some of the positions to which the provisions apply, such as school cooks and food service workers, are considered by department heads to be "hard to fill."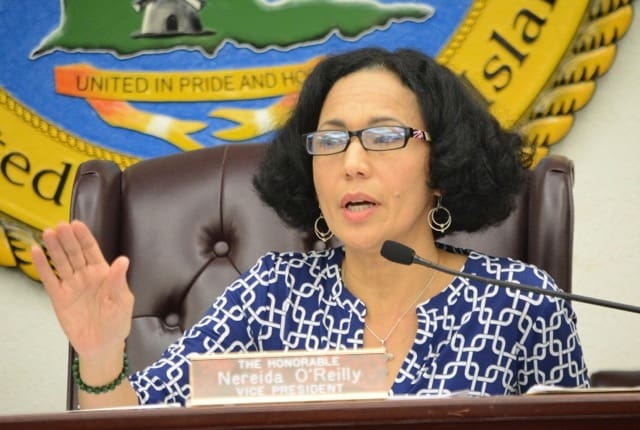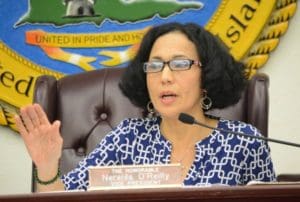 "One has to have rocks in his or her head to sit here and really believe that the positions listed here today are hard to fill positions, given the fact that all of us here know that many people out there – hundreds of people out there – are seeking employment every day," said Sen. Nereida Rivera-O'Reilly.
Rivera-O'Reilly accused the departments in question of not having a comprehensive and sound hiring plan, and using incentives for retirees to "recycle" employees while young people leave the territory for places with more job opportunities. She said retirees who want to continue to earn wages while collecting their annuities should join the private sector or start a business.
"Stop making excuses to just preserve the DNA of the status quo. It's over. It is done," she said.
Sen. Kurt Vialet, the Finance Committee's chairman, only partially agreed, saying that while some of the positions covered by the existing provisions likely do not need to be refilled with retirees, nurse and teacher shortages are a real problem facing many jurisdictions including the V.I..
The financial state of GERS ultimately convinced senators that Sanes' bill was worthy of moving forward. If it is passed, retirees who have returned to work for the government will have their annuities canceled and will have to begin paying contributions again if they remain in service 30 days after the act passes.
Sens. Rivera-O'Reilly, Vialet, Marvin Blyden, Dwayne DeGraff, Neville James, and Brian Smith voted to move the bill to the Committee on Rules and Judiciary. Sen. Tregenza Roach was absent.
The three other retiree-related bills on the Finance Committee's agenda were held in committee. Of those, only bill No. 32-0109, which seeks to give a 25 percent property tax credit to retirees who are owed retroactive wages, was discussed on the record.
Representatives of the Office of the Tax Assessor and Nellon Bowry, director of the Office of Management and Budget, both testified that passing the bill under the territory's grim financial state would be imprudent.
Their concerns included the facts that doing so would reduce revenue at a time of deficit, be unwieldy and costly given the lack of a shared database between GERS and the Tax Assessor's Office, and discriminate against those retirees who are owed retroactive wages but do not own any property.
Bowry said that the V.I. Government does have a substantial retroactive pay problem, with $248.2 million owed to both active and retired employees. He didn't have figures available on how much of that amount was owed to retirees.
Meanwhile Rhea Hodge, the treasurer St Croix Government Retirees, Inc., said that some of her organization's members have "passed away without enjoying the benefits of using money owed to them." Hodge said a 25 percent property tax credit did not go far enough in addressing the frustrations of retirees waiting for back pay.
Bowry expressed sympathy for that frustration but said, "we're trying to discuss the payment of retroactive at a time when the government's resources are at their lowest. And that's the reality."
"Sometimes when we recommend against a certain position, it's not always because we think it's not necessary," he continued. "But I think we are at the point in our fiscal situation where some surgery is going to be required. Some serious surgery. Including maybe some amputations. You amputate a toe, that doesn't mean you didn't need it."
The six Finance Committee members present also voted unanimously to hold the bill in committee, with Roach absent.
The two bills held in committee without discussion, also by unanimous decision, were:
– Bill No. 32-0095, authorizing GERS to use certain unencumbered government property as additional collateral to secure pension revenue bond funding.
– Bill No. 32-0050, authorizing the V.I. Government to negotiate for ownership of stock in publicly-traded companies in exchange for tax breaks or other concessions, with proceeds to be applied to the GERS unfunded liability.
Sen. Sanes, who sponsored three of the four bills on the agenda, said he knows bills related to GERS and retirees are bound to stir controversy, but that action is urgently needed.
"If GERS fails, the economy of our territory fails. Period. The government is the biggest employer at this time, it is the biggest contributor to the economy," he said.
Also held in the Finance Committee for further amendment was a bill sponsored by Sen. James, Bill No. 32-0045, which continues the work of the 31st Legislature in pursuing insurance coverage and pay for active duty V.I. National Guardsmen that matches pay for members of the U.S. Armed Forces.