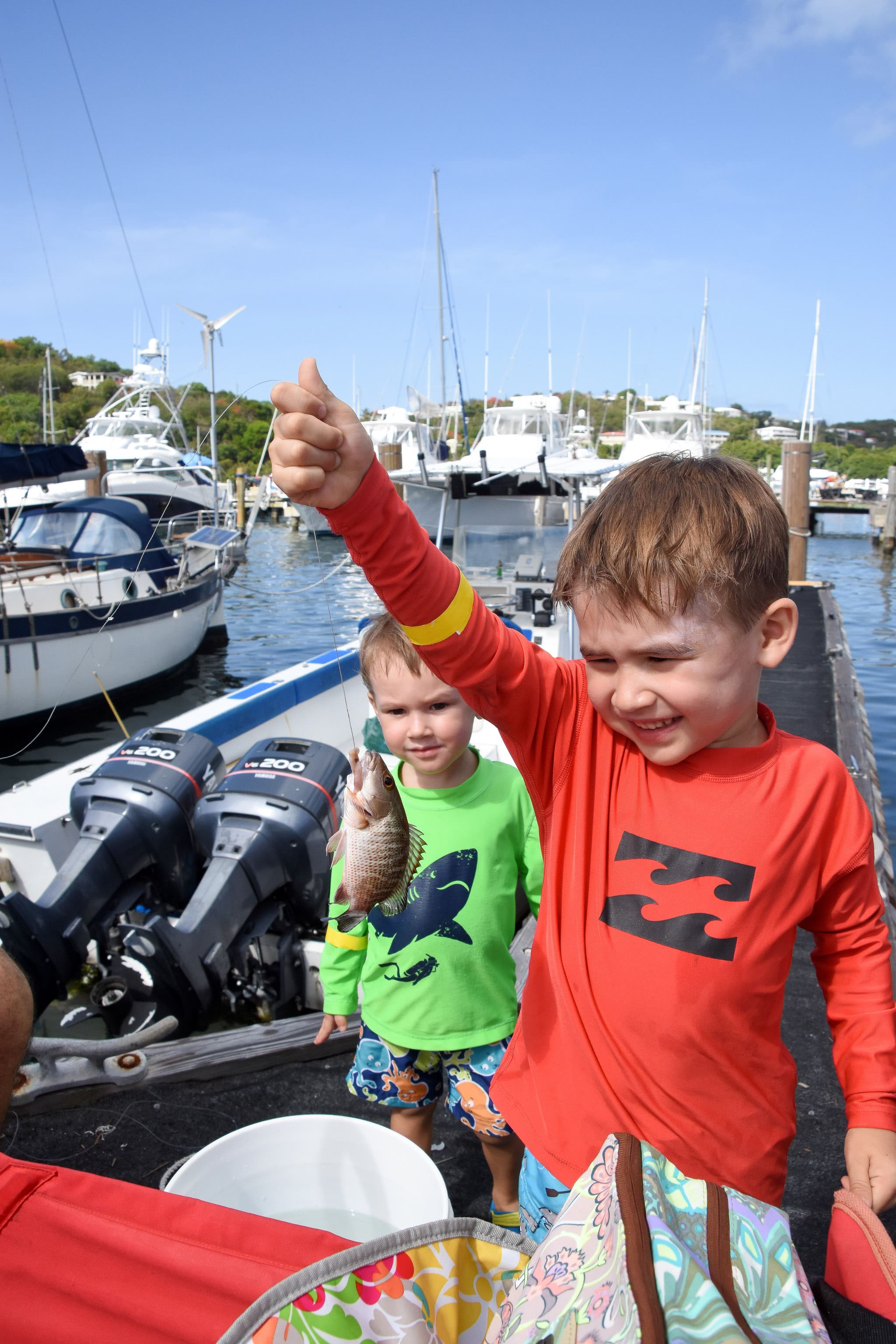 Eli Hume shouted out excitedly, 'I got it, I got it' as he pulled the finger-long yellow tail snapper hooked at the end of his baited hand line out of the water and into his bucket. Hume beamed a broad smile at his parents, then ran up to the scales to have his fish weighed. The four-year-old, and his two-year-old brother Wyatt, were among the 138 tots and teens that took part in the Virgin Islands Game Fishing Club's Kid's Fishing Tournament, held July 2 at IGY's American Yacht Harbor Marina, according to a release from the V.I. Game Fishing Club.
Junior anglers, along with parents and guardians, were armed with Virgin Islands Game Fishing Club-provided hand lines and bait as they spread out along the marina docks and tried their luck. It didn't take long for the fish catching action to happen.
"Look at the big crab I caught," says 7-year-old Andrea Daniel, who was thrilled since she didn't catch anything at last year's event.
Three-year-old Christian Bryan was jumping for joy as he brought his nearly pound-size mangrove snapper up to the scales. "It was really good," Bryan said with a great big grin.
Crabs were out in force this year near the shallow end of the docks and the young anglers, including 10-year-old Abraham Williams, didn't waste any time reeling in one of these critters. "I could see it come to the bait and waited until it had the bait in its mouth," says Williams.
Fifty-two of the junior anglers, ranging in age from 5- to 15-years, were members of the Boys & Girls Club of St. Thomas Summer Camp.
"We were able to bring more students this year since the organizers raised the participation age to 15," says Jackie Brown, unit director of the St. Thomas Boys & Girls Club. "Some have been coming to this tournament 3 to 4 years in a row now and we also had some beginners who came for the first time. They are having a ball. In fact, one student caught a lobster."
Members of the Virgin Islands Game Fishing Club walked the docks and helped junior anglers and adults alike with everything from fishing technique to untangling lines.
Puffer fish, snapper, barracuda, lobster, an eel and a couple of crabs numbered among the day's catch. Junior anglers practiced conservation by keeping their fish in a bucket of seawater until weighed and then released their catch back into the sea.
The overwhelming success of the tournament played out over the young faces as they ate pizza and drank cold drinks following the 11 a.m. call for lines out.
"We had smiling faces up and down the docks," says tournament director and Virgin Islands Game Fishing Club manager, Lori Bailey. "That's what fishing is all about. After all, it's important to pass these skills to the next generation."
All registered anglers received free entry, which included a T-shirt, backpack, hand line and bait. Prizes included wood trophies crafter by My Brother's Workshop as well as those donated by community businesses such as Diamonds International, Budget Marine, East End Flower Shop and Guardian Insurance in three age groups: Up to 6 years, 7- to 12-years and 13- to 15-years.
The Kid's Fishing Tournament was sponsored by the Virgin Islands Game Fishing Club, Neptune Fishing Supplies, IGY's American Yacht Harbor, Island Time Pub and Chelsea Drug Store.
Check out photos from the event on Facebook www.facebook.com/pages/Virgin-Islands-Game-Fishing-Club
SAMPLING OF WINNERS
Most Crustaceans by Weight
Hudson Hecht, 11.9 ounce lobster
0-6 year olds
1. Jackson Barkin (age 2) 14.4 ounces
2. Christian Bryan (age 3) 12.6 ounces
3. Syler Turbe (age 4) 7.2 ounces
7-12 year olds
1. Mekaela Richardson (age 8) 14.4 ounces
2. D'Mauri Richardson (age 9) 12.2 ounces
3. Quincy Dews (age 8) 11.8 ounces