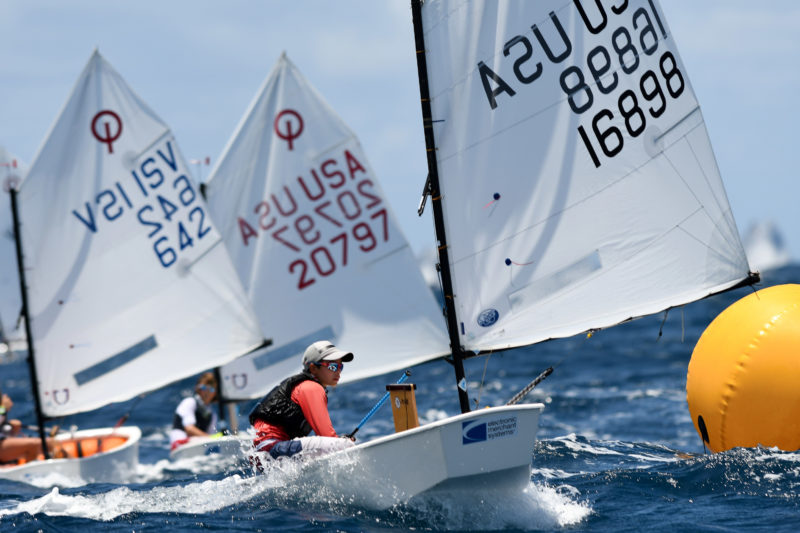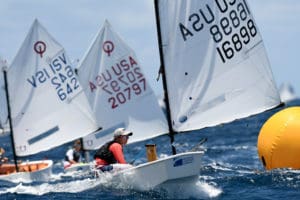 Mitchell Callahan was in a sweet spot heading into the third and final day of racing at the 25th International Optimist Regatta (IOR). The 14-year-old sailor from Cape Coral, Fla. was sitting pretty at five points in front of his closest competitor, twin brother Justin. Considering that Mitchell ultimately placed no lower than third in the 10-race regatta, he felt confident that he could hold on to his first place. Indeed, he did just that and was named the regatta's Overall Champion.
"Going into today, I knew I could be pretty aggressive because of my lead," said Callahan, who sails out of the Lauderdale Yacht Club. "So, my goal in the last two races was to start in the middle of the start line and then reach to the left so that I could get the first lift, accelerate and cross in front of the fleet to get clear air. That's just what happened. I won both races."
The regatta was presented by Electronic Merchant Systems (EMS) Virgin Islands and hosted by the St. Thomas Yacht Club, June 16 to 18.
A near-record 119 sailors from all three U.S. Virgin Islands, the British Virgin Islands, Puerto Rico, Antigua and the U.S.A, competed in the IOR/EMS. Sailors, who ranged from age 7-to 15-years, raced either in the Advanced Fleet in one of three age groupings: Red (ages 13 to 15), Blue (ages 11 and 12) or White (ages 10 and under) or in the Green (beginner) fleet. All sailed an 8-foot long, single-sail Optimist dinghy. This boat is sailed in over 120 countries and is one of only two yachts approved by World Sailing for sailors under the age of 16.
Callahan bested the Red Fleet, while it was Sebastian Spinelli-Sax, from Bayshore, Fla., who sails with the Manatee River Pram Fleet at the Bradenton Yacht Club, that earned first in the Blue Fleet.
"Sailing fast, keeping the boat flat in the water and getting good speed," is how 12-year-old Spinelli-Sax described his game plan and secret to success. "I also liked having a lot of wind, because I was able to control my boat where others couldn't and I was able to beat them."
In the White Fleet, it was St. Thomas' 10-year-old Tanner Krygsveld who won by an incredible nearly 200 points.
"I wasn't so much thinking about winning the White Fleet as I was about doing the best as I could in the overall," said Krygsveld. "My goal was top 15 and I finished 16th, so I'm pretty happy. What really helped was the clinic earlier in the week, where I learned more about how to handle the wind shifts and more about where to start on the starting line."
Puerto Rico's 11-year-old Roger Casellas, from Guaynabo, championed the Green Fleet.
"Having a nice start is what really helped me a lot," said Casellas. "That and trying to keep with the flow of the other boats. The big winds were tough though, but I had a lot of fun."
St. Thomas's Mia Nicolosi was awarded Top Girl.
"There was a lot more competition this year having the USA Worlds Team here," said Nicolosi, who championed the IOR/EMS in 2016 and finished fourth overall this year. "If they weren't here, I probably would have won again. But then again, I wouldn't have learned as much without having them here to sail against."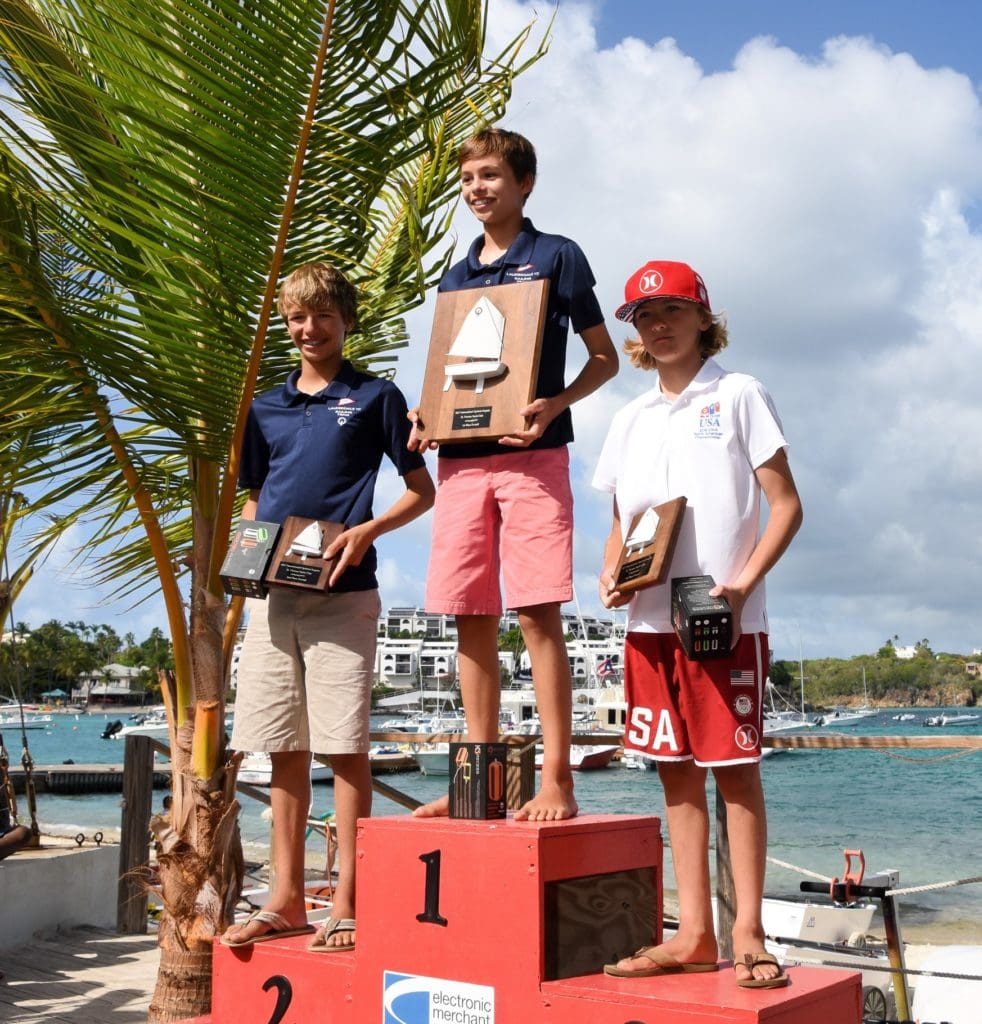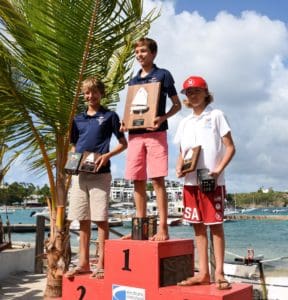 In other awards, it was the U.S.A.'s Peter Foley, representing the Coral Reef Yacht Club in Florida, who earned the Chuck Fuller Sportsmanship Award, and it was Justin Callahan who got the Pete Ives Award, which is given for a combination of sailing prowess, sportsmanship, determination and good attitude both on and off the water.
"What a pleasure being the principal race officer for such a fantastic regatta. Soup to nuts top notch conditions on the water and hospitality ashore. I honestly have never seen it done better," said Bill Canfield.
The IOR/EMS is organized under authority of the Virgin Islands Sailing Association and it is a Caribbean Sailing Association-sanctioned event.
"We at EMS Virgin Islands are so pleased to sponsor this event and want to congratulate all the sailors, parents and organizers on a fantastic event," said Cobia Fagan, owner of EMS Virgin Islands, whose 7-year-old son, Coby, raced in the regatta for the first time this year. "It made me so proud to see him out there smiling, playing and so happy making new friends."
The week started off with the TOTE Maritime Clinic, June 12-14, which was run by some of the world's top international coaches: Gonzalo Pollitzer (currently coaching the Norwegian Optimist Team), Manny Resano (California Yacht Club, USA), Eric Bardes (Team LIMA (Long Island Mid-Atlantic, USA), Omari Scott (Coral Reef Yacht Club, USA), Santiago Galan (St. Croix Yacht Club, USVI), Esteban Rocha (Sequoia Yacht Club, USA), Agustin Resano (St Thomas Yacht Club USVI), Kristopher Sarmiento (Key Biscayne Yacht Club, USA) and Mykel Alonso (Coral Reef Yacht Club, USA).
The one-day TOTE Maritime Team Racing Championships took place, June 15. The team race was won by Team USA Worlds, made up of Mitchell Callahan, Justin Callahan, Charlie Leigh, Liam O'Keeffe and Stephan Baker.
The IOR/EMS, TOTE clinic and team race are also sponsored by the U.S. Virgin Islands Department of Tourism.
This is the sixth year that the IOR/EMS has taken part in Sailors for the Sea's Clean Regattas program, the only ocean conservation nonprofit focused on the sailing and boating community that encourages regatta participants to use the reusable water bottle provided in goodie bag throughout the regatta, keep all lunch bags and wrapping out of the water, pick up any trash on shore and accept drinks without straws.
For more information, call 775-6320; e-mail:
internationaloptiregatta@gmail.com, or visit the St. Thomas Yacht Club Web site at www.styc.club or www.regattanetwork.com for full results.
RESULTS
TOP 5 FINISHERS BY FLEET
RED FLEET
Mitchell Callahan, USA (14)
2. Justin Callahan, USA (21)
Stephan Baker, USA (33)
Mia Nicolosi, USVI (40)
Rayne Duff, BVI (42)
BLUE FLEET
Sebastian Spinelli-Sax, USA (140)
Cort Snyder, USA (143)
Jackson McAliley, USA (162)
Katherine Majette, USVI (193)
Jack Redmond, USA (236)
WHITE FLEET
Tanner Krygsveld, USVI (166)
Samara Walshe, USA (355)
Griggs Diemar, USA (410)
Charles Gilman Hackel, USA (481)
Paolo Perino, PR (503)
GREEN FLEET
Roger Casellas, PR (62)
Sebastian Medina, PR (69)
Jake Julien, USA (70)
Gian Marco Piovanetti, PR (106)
Owen Grainger, USA (130)