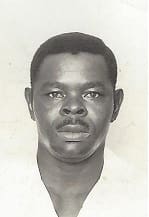 James Nathaniel Caines of St. Thomas died on Saturday, June 3, at his residence. He was 93 years old.
He was preceded in death by his wife, Eileen Spencer Caines.
James Nathaniel Caines is survived by his sons: Osaius Caines of Orlando, Fla., Henry Caines of St. Thomas and Thomas Caines of Oxnard, Calif.; daughters: Frances Phillips of Birmingham, England, and Louisa Patrick of St. Kitts, W.I.; daughters–in law: Albertha Caines of Orlando, Fla., and Rev. Dr. Jacinth Caines of Orlando, Fla.; 15 grandchildren; 22 great-grandchildren; and a host of family and friends too numerous to mention.
Relatives and friends are respectfully invited to attend the memorial service at 6 p.m. on Monday, June 19, at Trinity Church, 106 Bolongo Bay, St. Thomas.
Arrangements are under the care of Hurley Funeral Home and Cremation Center of St. Thomas, St. John, St. Croix and Tortola.
For directions and online condolences, please visit us at www.hurleydavisfuneral home.com