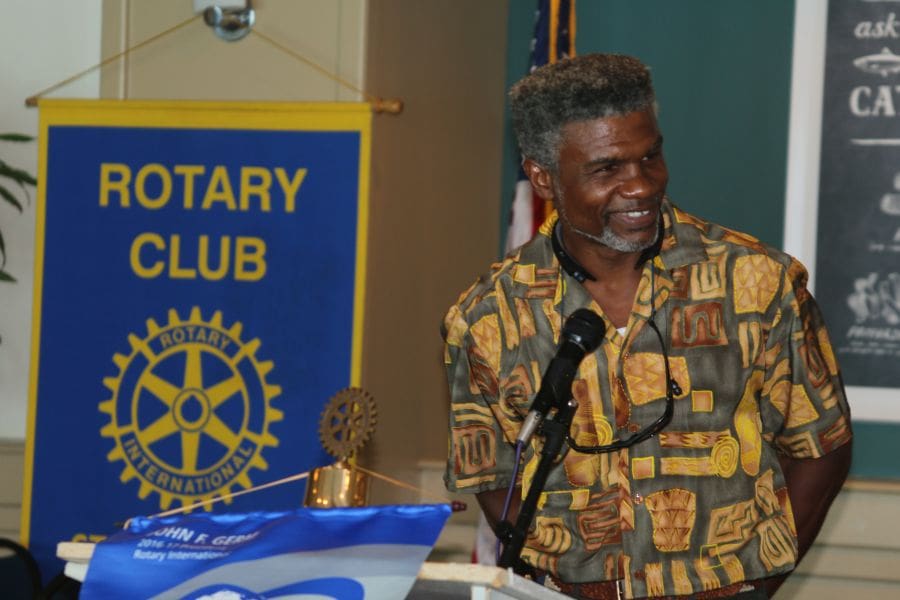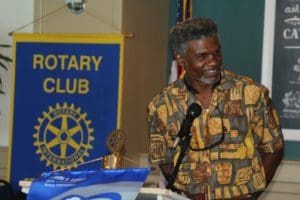 When Rotary Club of St. Thomas II officials called three-time world boxing champion Julian "The Hawk" Jackson up to the front of the room at Marriott Frenchman's Reef Wednesday, he was surprised.
Jackson said he knew that the announcement of the club's Person of the Year award was on the program, but he was told by his wife that the award was going to Clayton Laurent Jr., his stepson. Jackson said later that he started to get "a little puzzled," however, as club chair Wayne Barry, who made the introduction, started speaking about the recipient's illustrious 17-year boxing career.
"I started looking around the room, thinking, wait, is anyone else in here a boxer?" Jackson said. "It wasn't until they said my name that I knew. I was completely caught off guard."
Barry called Jackson a true example of Rotary's motto, "Service above self," and had dedicated his career not only to being a good ambassador of the Virgin Islands, but to coming home afterward and mentoring local youth. Jackson established the I Believe I Can Fly boxing gym in Paul M. Pearson Gardens more than a decade ago and, working with the V.I. Amateur Boxing Federation, has turned it into a hub for young men and women who not only learn how to box, but how to better manage their lives.
"After his professional career ended, he embarked on an even more intense phase of his life, and the major beneficiaries of that have been the territory's young people," Barry said in his introduction before the announcement was made. "He is an exceptional individual and role model for young people, and also adults. He is a powerful motivator and an inspiring speaker who distills wisdom without preachiness or self-importance."
Barry also spoke about the gym's role as a "foundation for social development," which teaches students life skills such as determination and discipline. He said that Jackson's career, time in the boxing industry and, more recently, his work as a minister within the community, the traits Jackson tries to pass on to the students he mentors.
"He teaches those young men and women that with hard work, they can achieve whatever they desire," Barry said. "The efforts of the 340 Boxing Foundation (which Jackson is also involved in) and our honoree make the world we live in here in the Virgin Islands a better place."
Jackson was presented with a statue of Don Quixote, which Barry said symbolizes the organization's commitment to worthy causes, even if, at times, they seem to "everyone else to be a little bit crazy."
In accepting the award, Jackson said he has God and his wife to thank for putting him on his current path.
"I thank God for what he has done in my life," Jackson said. "Knowing where I was headed, what was happening to me, God stepped in and my life took a complete U-turn and I realized that in order for me to make it in these beautiful islands, I had to change my attitude, I had to change the way I look at myself first and then the way I look at my own people.
"In order to make a difference, I had to say, 'Julian, if you want people to honor you, you first have to honor them, you have to befriend them,' and I'm still working at it. It's definitely true, though. The way you treat others should be the way you want them to treat you."