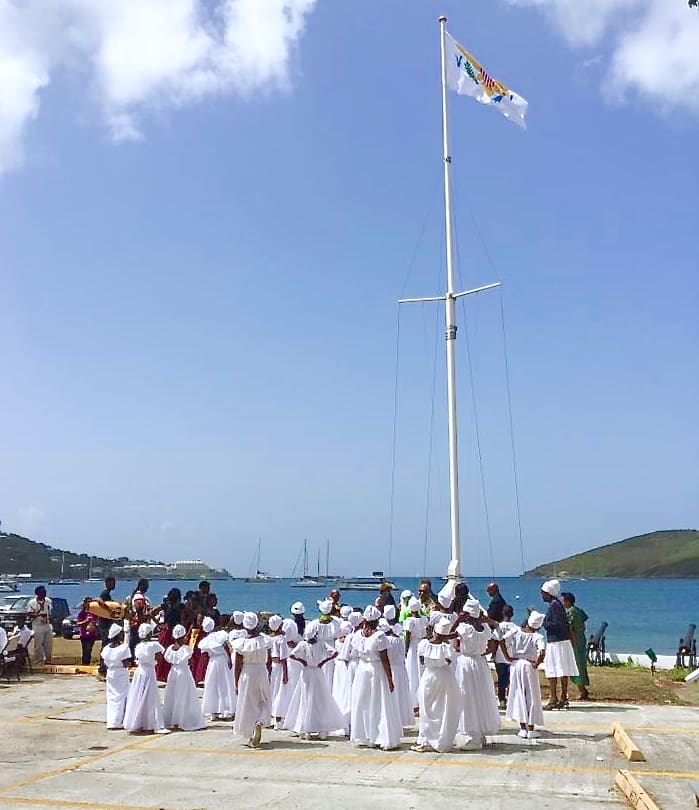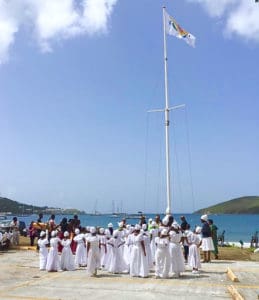 Students, community groups and the V.I. Senate on Thursday commemorated African Liberation Day and Heritage Week with cultural activities on the grounds of the V.I. Legislature, celebrating the history of the territory and giving participants the chance to honor their ancestors.
The ceremony started early in the morning with a flag raising outside the Capitol Building on St. Thomas. Dressed in white, the Ulla F. Muller Elementary School's cultural dancers surrounded the flagpole on the west side of the parking lot and watched as the Pan African flag was hoisted and unfurled against the bright blue sky. The presence of the student group set the tone for the rest of the day, with a program that focused heavily on student performances and speeches.
"Today is the day that we are reminded from whence we came," Sen. Jean Forde said. "And I'm glad we started the day with the involvement of our young individuals because they are the future."
African Liberation Day is officially celebrated around the world on May 25. This year's global theme was "Raising the Consciousness of African Youth Through Enlightenment, Empowerment, Culture, and Organization for Liberty and Dignity." To honor that, organizers Thursday brought to the forefront student dancers, drummers and speakers who spoke briefly about the African Liberation movement and its impact on the community.
Adult speakers throughout the day also spoke about the evolution of African-Americans from slavery to modern times, and how that was seen in the territory as the Virgin Islands emerged from Danish rule.
"This is an opportunity for us to celebrate and observe and have a better understanding of the dynamics that shaped our history as African people, who made contributions to global society and found themselves enslaved in the New World institution of slavery," Senate President Myron D. Jackson said. "We should recognize our building of New World societies and our continued struggle for self-determination and economic and social advancement."
Speakers also stressed the need to impart these lessons to younger generations, and the importance of keeping them involved – especially young men – in the development of the community.
"Today we are educated and entertained by the youth, but are they taking this seriously?" asked Dara Monifa Cooper, program director of Sankofa Saturdays program. "And can they be expected to take it seriously if they don't see examples of that from us, through us, and by us? If we spend a year planning an carnival and only weeks planning African Heritage, Kwanzaa and other activities, what does that say?"
Cooper also spoke about enforcing laws that mandate the teaching of cultural education in the schools.
"They say it takes a village, but obviously it's not enough. And the signs are showing," Cooper said.