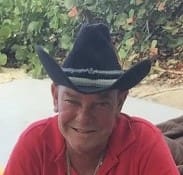 Robert P. Ledee died on Saturday, May 20, at his residence on St. Thomas. He was 57 years old.
He is survived by his mother, Marie Ledee LaPlace; brothers: Miguel, Anthony, Silivi and David Ledee; sisters: Marie Ledee Greaux, Anna Ledee Quetel, Theresa Ledee Querrard and Carol Ledee Bryan; long term companion, Juile Quetel; stepchildren: Mando and Arlene Quetel; sisters-in-law: Loretta, Jennifer and Ada Ledee; brothers-in-law: Alan Bryan, Ralph Quetel and Warren Querrard; aunt, Alicia Garcia; and nieces: Sylvia Bagley, Crystal Myers, Christina Basick, Rita Ledee, Michelle Ledee, Jessica Gomez, Candace Bryan, Estefany Ledee and Adrihen Genao.
He is also survived by nephews: David Ledee, Michael Quetel, Kevin and Stephen Ledee, Brandon Bryan, and Christopher and Calvin Ledee; very special friends: Joey LaPlace, Linda Quetel, Justin Daimer, Sandra Walsh, David Aubain, Frankie Lewis, Andy Quetel, Hermina Henry and Ivan Greaux; as well as many other relatives, family and friends too numerous to mention.
The viewing will be at the church at 9 a.m. followed at 10 a.m. by a Mass of Christian Burial on Friday, May 26, at Holy Family Catholic Church in Anna's Retreat. Interment will be cremation.
The family is requesting festive colors be worn.
Arrangements are under the care of Hurley Funeral Home and Cremation Center of St. Thomas, St. John, St. Croix and Tortola
For directions and online condolences, please visit us at www.hurleydavisfuneral home.com.