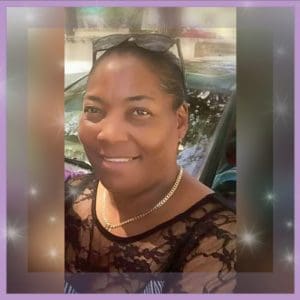 Delores Rieara was born on Feb. 3, 1958, and she died on May 16, at the age of 59.
Relatives and friends are respectfully invited to attend the viewing at 10 a.m., which will be followed by a funeral service at 11 a.m., on Thursday, May 25, at St. Andrew's Episcopal Church. Interment will be cremation.
She has been preceded in death by her brothers: Anslemo Rieara and Elton Rieara.
She is survived by her husband, Edmund A. Ross; children: Bambula, Yasim, Jaheed, Deyambi, Khamari, Ayana, Takiyah, Soyini, Safiya, Zakenya, Kalima, Quaniya, Delores, Kaiyana Ross and 26 grandchildren; brothers: Alphonso, Antonio, Alberto, Otis, Jr, Austin and Elroy Reiara; sisters: Karen McQueen, Delta Matthews and Cleone Rieara; sisters-in-law: Diane Rieara and Diane Henderson; brothers-in-law: Burton Henley, Dennis Matthews and Mike Ross; son-in-laws: Tyrone Rogers, Eyon Wilson, Dwight Hendrickson and Joseph Stewart; and daughter-in-law, Nureaka Ross.
She is also survived by nephews: Wakamba Rieara, Kwasi Oscar, Yamasi Rieara, Haswani, Jamard and Jimany Henley, Kahleem Rieara, Jahleemo Rieara, Kaheli Willet, Askiban Innis, Abdul Williams, Ijahka Williams, Michael Rieara, Philip Brown, Richard Brown, Anthony Rieara, Alton Harper, Allen Nance, Kevin Ackwood and Kenneth Ackwood; and nieces: Pamela Brown-Ayers, Arshima Rieara, Lily Addo, Tanisha Rieara, Tamia Rieara, Jessica Turnbull, Nneka Peterson-Wheatley, Teejah Daley, Princess Innis, Diantha Matthews, Shanifa Rieara, Shanikah Rieara, Khaliah Rieara, Takera Rieara, Aleena Rieara, Sheryll Ronan, Jahlema Rieara and Kijah Todman.
Professional Funeral Services are entrusted to Turnbull's Funeral Home Telephone: 779-6565; e-mail: turnbullsfuneralh[email protected]