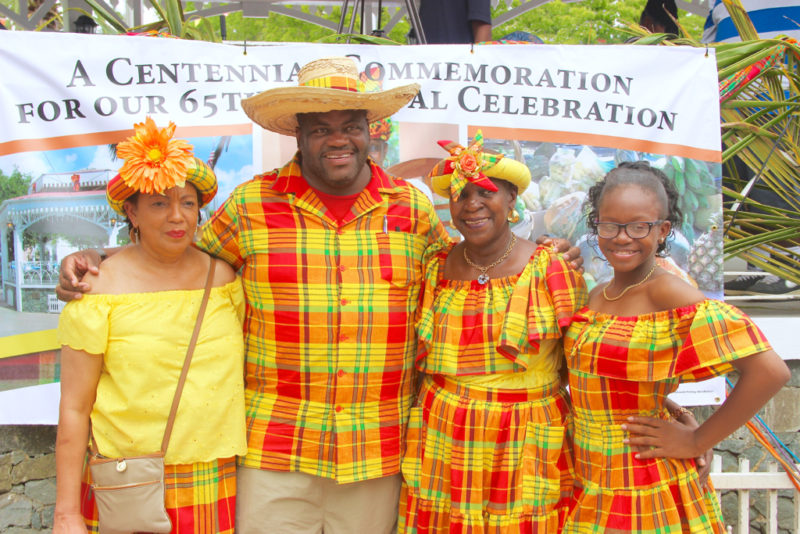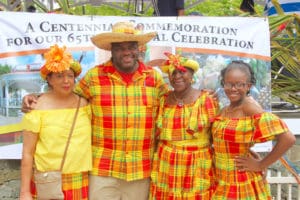 If asked which Carnival event is at the top of their list, aside from the parades, most Thomians would agree that the Cultural Fair is a must.
With vendors selling local prepared foods and an assortment of produce, as well as such crafts as mahogany bowls and handmade jewelry, the fair is Carnival's cultural showpiece.
Throughout Wednesday, large crowds filled the food and vendor booths in Emancipation Gardens and the adjacent side streets.
This year's fairgrounds were named "Winnie's Garden of Delights and Delicacies" in honor of Winifred Francis, a cultural stalwart in the St. Thomas community.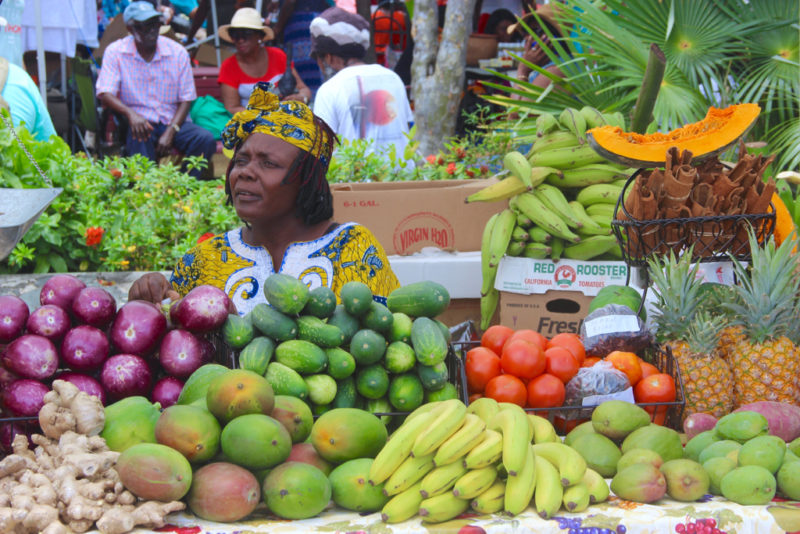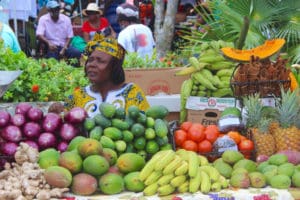 "This is a grand honor after participating in the fair for over 20 years and I sincerely thank the Carnival committee for selecting me," Francis said. "It's all about the love of culture and our food traditions like callaloo and fried fish."
Over half a century ago, at the age of two, Francis 's mother took her to the island's first reinstated Carnival, she said. There had been Carnivals before, but the celebration was on hiatus for a number of years before rebooting in 1952.
"Sixty-five year ago I was on my mother's shoulders while she was tramping and now I'm right here doing what I love," Francis said.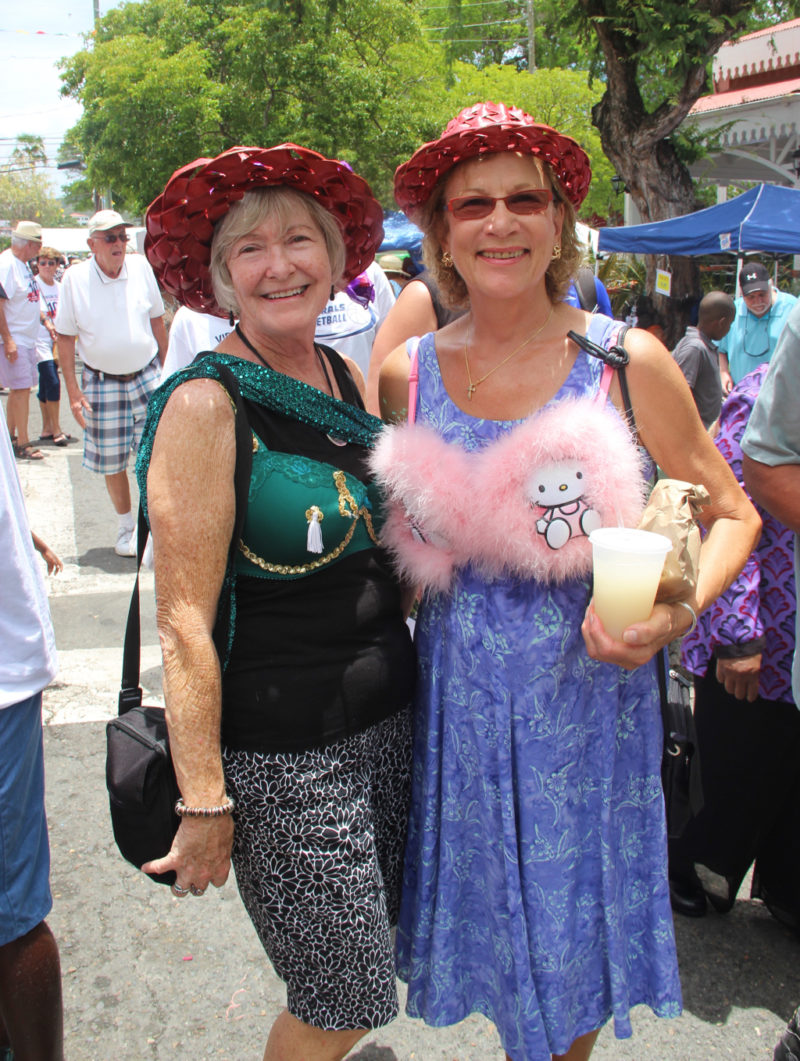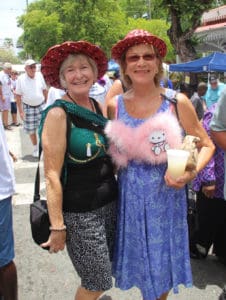 Francis recalled when the Cultural Fair was a much smaller affair and was located in nearby Market Square. With the fair growing in size every year, Francis said Emancipation Gardens is a much more comfortable and social space for larger groups of people to gather.
"Most of the food that's offered here can't be found in restaurants," said Francis, adding that every kid from the Virgin Islands should know how to make a johnnycake.
Vendors were pleased with the steady crowds throughout the day. Farmer Simone Anthony said his produce was selling well, while children's book author Mario Picayo said sales and book signings were keeping him busy.
With the sun blazing, people sought shade wherever they could find it under trees and tents. Groups of families and friends picnicked in the grounds around the newly restored Fort Christian, which surprisingly wasn't open for the festivity.
Speaking to the easygoing, social nature of the fair, Hannah "Nethaniah" Malone said she most looks forward to running into old friends that usually only visit island once a year. But she said she also comes to the fair to get her ital food fix.
"I'm a pretty selective eater and am limited to mostly vegetarian style food. I like to order peas balls, tofu and rice," Malone said.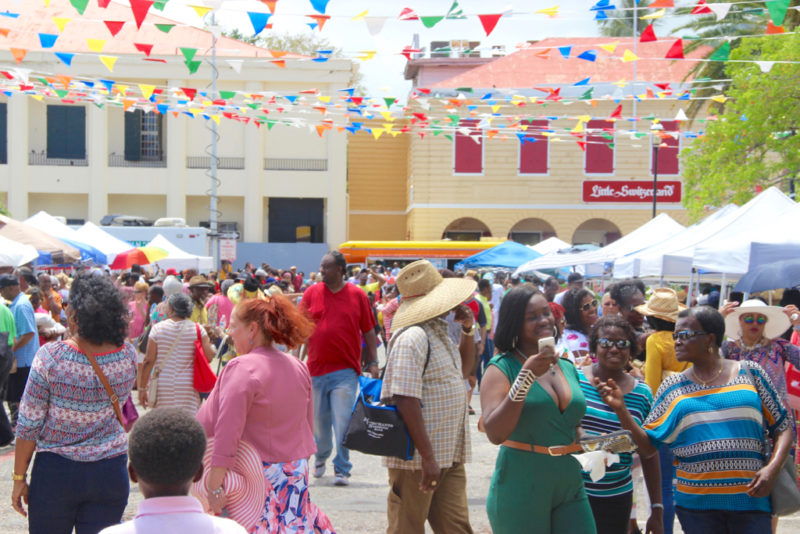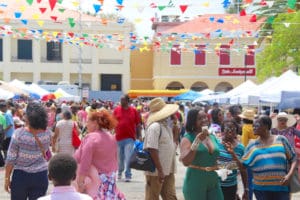 Other fairgoers, such as Augustine Holder, preferred sampling from a number of booths. With a variety of local juices to choose from, including chlorophyll and ginger-pineapple, Holder was taking his time deciding which drink to get, but knew he wanted something local.
"I don't see why you shouldn't come to the fair, since it's all about cultural diversity and bringing awareness to the Virgin Islands and to our Carnival," Holder stated. "Buy local, support local, and be local."
In an effort to raise funds for Cancer Support VI, Susan Johnson and Linda Lawrence wore showy, for-sale bras over their clothes. They said all the money raised from the bra sales will benefit an uninsured cancer patient in the territory.
While taking out which booth to patronize for lunch, Jared Shomo said, "I came out to see all the beautiful people, to get some good food and to experience the good vibes – that's it."