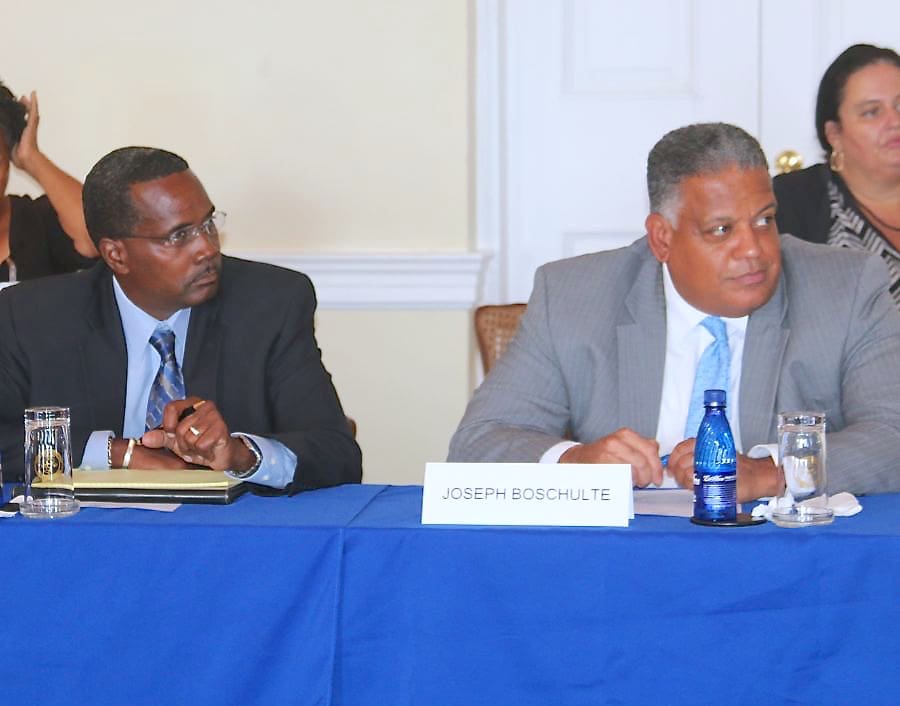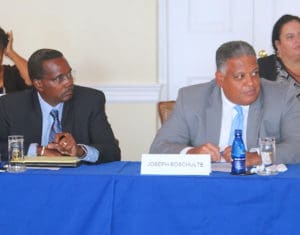 The first meeting of a new government task force put together to improve the visitor experience within Charlotte Amalie started Wednesday with some surprise announcements about new appointments, including the movement of former West Indian Company Ltd. chief Joseph Boschulte to the Department of Tourism.
Taking Boschulte's place at WICO will be former Sen. Clifford Graham, whose term begins May 1. Graham was present at Wednesday's meeting and introduced by his new title, while Gov. Kenneth Mapp announced that Boschulte, who was also at the meeting, would continue working with the territory's cruise ship partners under Tourism. Boschulte will also be working with Graham for the first three months of his term at WICO to "ensure a smooth transition," according to officials.
The task force also includes the WICO board chair, V.I. Port Authority chair and interim Executive Director David Mapp, Public Works Commissioner Gustav James, interim Property and Procurement Commissioner Lloyd Bough and several members of the private sector, including representatives from the V.I. Taxi Association and businesses on Main Street.
Mapp said Wednesday that discussions with partners from the Florida Caribbean Cruise Administration prompted the formation of the task force, whose mission is to take a "holistic approach" to "revitalizing, refurbishing and re-invigorating" the territory's tourism product, particularly within the area of downtown Charlotte Amalie.
Mapp spoke of receiving an email from one Carnival Cruise Line exec who described his visit to St. Thomas as "horrible."
"He sent several photos and descriptions and all in all, it was not a good visit," Mapp said. "It was a horrible visit. The downtown stores were pretty much empty, Main Street was not busy and his response was that the visit was so bad for him, as an experience, that he didn't know if he wanted to come back to the port of Charlotte Amalie again."
Task force members agreed that keeping Charlotte Amalie competitive was a primary objective and Tourism Commissioner Beverly Nicholson-Doty said Wednesday that feedback from the cruise lines indicated that giving passengers the option of taking water transportation downtown would go a long way in helping the industry.
Public Works Commissioner Gustav James said the department has been working on a Request for Proposals (RFP) for vendors interested in bidding for an exclusive franchise to operate water transportation downtown. That vendor would be able to provide a vessel or vessels that would take passengers to five stops, including Crown Bay, Yacht Haven Grande, Water Island and Havensight, along with one or two stops downtown.
Cruise industry partners have gone over the proposed RFP and Nicholson-Doty said that the document has been revised and will be presented again next week. After that process is completed, it will take between a month to a month and a half for bids to come in and up to another month for them to be evaluated. Bough said Property and Procurement would take the lead on the evaluation and selection process.
Meanwhile, much also has to be done to "improve" Main Street so that more cruise ship calls can be secured.
"We are a stale pond," business owner and task force member Pash Daswani said Wednesday. "And these are comments I am getting from clients that have been repeat customers for 30 years. We have become complacent, we are not doing anything to change Main Street, and we have to get a group together to move forward, so this is a great start."
Daswani and other private sector representatives said that the start and stop construction downtown has hurt businesses, along with the drop in cruise ship calls. There are multiple berths at both St. Thomas docks and they appear to be occupied less than half the time, Daswani said.
"We might want to think about how we take a block of Main Street at a time, go in and get the job down and get out," Mapp responded. "We can't keep doing it on a piecemeal basis."
Mapp also spoke about upcoming dredging of the harbor, the start of the Turpentine Run (Bridge to Nowhere) project in May and the expansion of the Clinton Phipps Racetrack, which is expected to start this summer. James said the first phase of the Veterans Drive project, running from Lover's Lane to the Legislature, is expected to start in September and take 24 to 30 months to complete, while a proposed Harwood Highway improvement (around Nisky Center) has already begun.
Mapp and Nicholson-Doty said a communications plan to inform residents and visitors about the various projects, when they will be rolled out and how traffic will be impacted, will be developed.