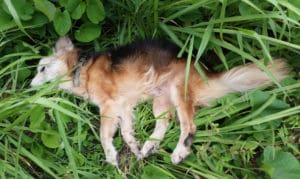 At about 10:30 a.m. Sunday, Source publisher Shaun Pennington came upon a dog that had been struck and killed by the side of the road. She and her husband removed the dog into the grass in front of St. Thomas Jet Center on the south side of the road that runs parallel to the Cyril E. King Airport runway between Community Motors and the University of the Virgin Islands.
The medium sized dog was wearing a faded blue collar.
Pennington said she hoped this notice would alert the owners to the whereabouts of their deceased pet.
She expressed concern that though there is a law in the U.S.V.I. that requires drivers who kill an animal to try to find the owners or to take the animal to a veterinarian, the law is not enforced.
"I don't understand how you can hit a beautiful, loving creature like a dog and leave it there to die alone and un-cared for," she said.
Pennington opted to leave the dog and put a notice in the Source so the owners would know where to find the dog.