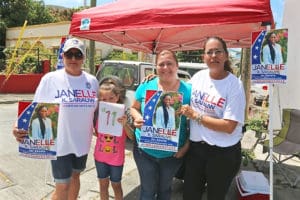 Janelle Sarauw nabbed the St. Thomas-St. John district's vacant Senate seat in a special election Saturday.
According to the unofficial numbers Sarauw received 1,234 votes. The second highest vote getter in Saturday's special election was former senator Justin Harrigan, Sr., with 981 votes.
Elections officials said the difference in votes between the two could technically be made up by the number of absentee ballots still outstanding, but realistically, the winners are not expected to change.
"Mathematically it's possible, but realistically there's very little chance of that happening," St. Thomas-St. John District Board of Elections chair Arturo Watlington, Jr. said after the results were announced Saturday night. Watlington said that the board has 191 absentee ballots on hand and 67 more still pending.
Overall, Watlington said a total 4,224 votes came in for the special election, which he said was lower than expected. More than 6,000 ballots were printed and the board had expected up to 8,000 residents at the polls, a small percentage of the 24,433 voters registered overall for the district. While some judges said Saturday that there were good early voting numbers (approximately 1,400,) Watlington said that many residents were "just fed up" by the circumstances leading up to the special election, which was triggered by a lawsuit and court rulings that eventually lead to the ousting of former senator-elect Kevin Rodriquez.
Rodriquez came in sixth in the November general election to fill seven St. Thomas-St. John legislative seats and the St. Thomas-St. John Board of Elections certified his candidacy and the final vote. But in December, Sarauw, the eighth-place candidate, and a campaign worker sued in V.I. Superior Court to stop Rodriquez from being seated, arguing that Rodriquez had asserted in court documents filed in 2016 that he was a bona fide resident of Tennessee and therefore could not meet the three-year residency requirement set by V.I. law. An initial ruling from Superior Court Judge Kathleen Mackay was in favor of Rodriquez, but her ruling was overturned days later by the V.I. Supreme Court, which determined that in his bankruptcy petition, Rodriquez swore under penalty of perjury that he lived in Tennessee and had not lived in another state anytime during the preceding three years.
It applied the doctrine of "judicial estoppel," saying that Rodriquez's claim under oath in one court prevented him from claiming the opposite in another court.
Rodriquez filed to have the case moved to V.I. District Court and argued that the Revised Organic Act, the federal law that acts as a constitution for the territory, gives the Legislature final authority over who is qualified to sit. Rodriquez also sued the Legislature, requesting it seat him. While the Senate deferred to the courts, both Rodriquez's and Sarauw's suits were eventually dismissed, along with an appeal recently filed by Rodriquez that sought to stay the special election.
"It all was a total waste of time and we have the 32nd Legislature to thank for this exercise in futility," Watlington said Saturday night. "Voter apathy is clearly reflected in the number of people that went and we've just seen total disgust expressed about the fact that the general election results were ignored. A lot of people just said they were not coming out to vote again."
While the Source was unable to reach Sarauw for comment Saturday night, her supporters said Saturday that their candidate was still the right person for the job.
"She's intelligent, strong and independent," supporter Christie Berry said while campaigning outside Charlotte Amalie High School Saturday morning. "And the attacks on her have been ridiculous, but she's remained positive. The time people are taking to bash her, they could be showing us how they could do better but instead they are behaving badly and making themselves look ridiculous. Every attack has been personal and it has nothing to do with the job that she is capable of doing."
Special Senate Election
Unofficial Results
8:82 p.m. April 8
Ballots cast total – 4,254
Ballots cast blank – 22
13 of 15 precincts counted
Lloyd L. Williams (Dem) – 184
Gilmore A. Estrill, Sr. (Ind) – 18
Randolph L. Thomas (Dem) – 98
Alma Francis Hyliger (Ind) – 444
Darien L. Wheatley (Dem) – 93
Robert Max Schanfarber (Rep) – 53
Justin Harrigan Sr. (Dem) – 981
Gustave R. Dowling (Dem) – 117
Barbara A. Petersen (Dem) – 374
Wilma Marsh Monsanto (Ind) – 59
Janelle K. Sarauw (Ind) 1,234
Patrick Simeon Sprauve (Dem) – 286
Stephen "Smokey" Frett (ICM) – 272)
Write In (Ind) – 19